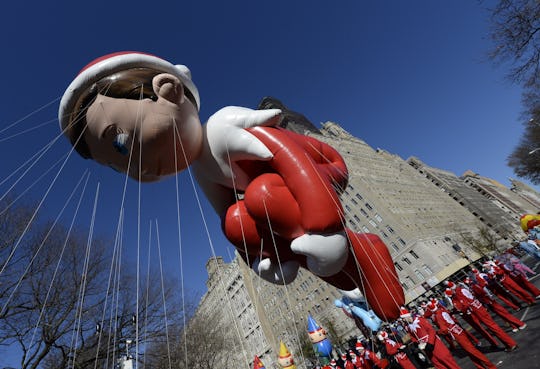 TIMOTHY CLARY/AFP/Getty Images
8 Questions I Want To Ask The Elf On The Shelf
That guy has some explaining to do.
Personally, I love the magic of the holiday season. Even with the strange, collective willingness to lie to children, I still really want my son to believe in Santa Claus. However when it comes to the Elf On The Shelf, I have absolutely no interest in perpetuating the myth of a doll conducting covert surveillance on our every move, then reporting back to the "Big Man." I find that dude creepy AF, so there are more than a few questions I want to ask The Elf On The Shelf; mainly along the lines of, "Dude, why?"
Maybe I am just jealous of the more creative moms, who manage to stage elaborate scenes where the Elf gets into all sorts of mischief in the middle of night. For example, I have one mama friend who is insanely imaginative and really gets into the whole story, to the point that I actually look forward to seeing her social media posts as to what the Elf has been doing during the night. However, I know I'm way too lazy and unorganized to be posing and photographing a toy before I crawl into bed.
I also just find the whole idea to be pretty damn creepy. Maybe, when children are misbehaving, it seems logical (to some) to threaten to "tell Santa," but just think for a moment about the lesson you are teaching. You're essentially saying Santa's authority supersedes yours, as a parent, that children's mistakes are being watched and recorded, and that being good isn't its own reward (but simply one step in an exchange for material stuff). You're also equating your kid's mistakes to their innate "goodness," which, you know, isn't necessarily the healthiest of lessons. So, yeah, I'm just not into it. Instead of positioning The Elf in elaborate positions middle of the night, I'd rather ask the damn thing the following questions:
This article was originally published on