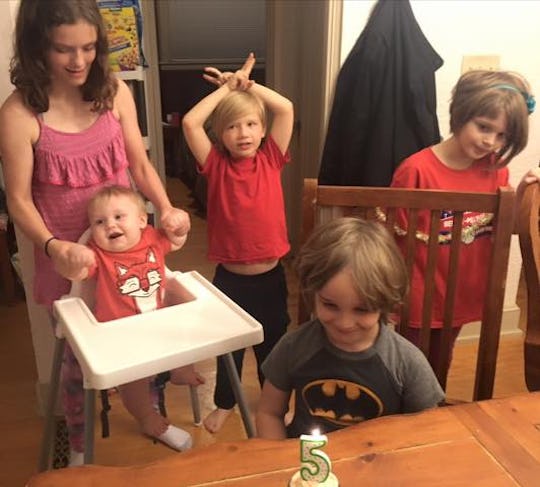 Courtesy of Steph Montgomery
10 Life-Saving Mantras For Every Mom With More Than One Kid
I used to laugh at parents who let their kids outnumber them. I always planned on having two kids, that's it, so that's exactly what I did. But then I got divorced, was an outnumbered single mom, and eventually met and married a man with two kids of his own. Earlier this year we welcomed baby number five, and while our family is loud and chaotic I wouldn't change a thing. It's not easy to be a mom with a big family, though, which is why I have created a few mantras for every mom with more than one kid. You know, so we can all survive those overwhelming, patience-testing, exhausting moments.
In many ways, being a mom to multiple kids is like playing dodge ball, running a zoo without cages, and probably working in Chef Ramsey's kitchen. Even when it's bedtime, and our home is quiet for the first time all day, five kids wake up at random moments with different needs, generally when my partner and I are sleeping or attempting to enjoy a little sexy time. I know that, sooner or later, I will probably have a conversation about tampons while changing a diaper, because our kids range in age from infant to puberty.
So mantras like, "you can do this" and "it will get better" and "it's OK if your house isn't pristine" make me feel better about my often less-than-perfect life. I also have to reassure myself that our family is just fine, no matter how often people make comments or jokes about how many kids my partner and I have. (No, we aren't the Duggars, and jokes like that are not funny.) Mostly, I give myself little pep talks to get through the day.
I had no idea what having a large family would be like. No clue. And, really, there's no way to know unless you've been there. I do know that everything is better when you engage in a little bit of positive self-talk, like these mantras: