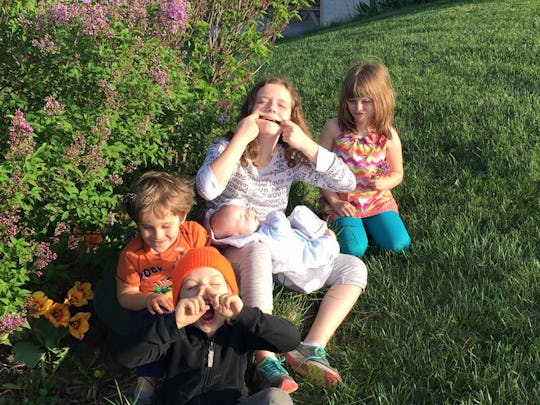 Courtesy of Steph Montgomery
What Every Mom With A Big Family Wants Other Moms To Know
I never planned to have a large family. In fact, I was firmly in the "never let yourself be out-numbered by your kids" camp. Then I became a single mom of two, met a divorced dad of two, and before I knew it I had four kids — sort of like the Brady Bunch. Still, and much to my surprise, my family didn't feel complete. So my partner and I decided to have baby number five. I honestly didn't "get" large families until I had one, but now that I do I feel confident in saying there are things every mom with a big family wants other moms to know. I guess you could say it's time to set the record straight.
I don't really get why having five kids seems to completely weird people out. I mean, it's not like my partner and I have procreated enough times to secure our own show on TLC or anything. Still, apparently we have enough children to warrant a few stares, rude comments, and bad jokes anytime we dare to appear in public.
It's also really hard to have a big family sometimes. Like, it literally takes an hour to leave the house, if not longer. Even if my partner and I stay really organized, it seems like someone is always missing a shoe (it's usually right where they left it), or forgets their homework, lunch, or musical instrument at home. Don't even get me started on bedtime, because it's goddamn exhausting. Since my kids range in age from baby to tween, I have diapers and puberty to worry about, not to mention everything in between. The worst part, though? When you have a big family people get seriously pissed if you complain about it. Like, ever. I mean, "If we didn't want the trouble of five children, why did we even have them?" Yes, people have actually asked me that question. To my face. They were dead serious.
Like any parent with any number of children, you have your good days and bad days when you're managing a large household. Having five children shouldn't keep me from voicing my very legitimate frustrations, though, and it definitely shouldn't mean I have to deal with judgment from others. So, in the name of mutual understanding, here are just a few things every mom with a big family wants every other mom to know: