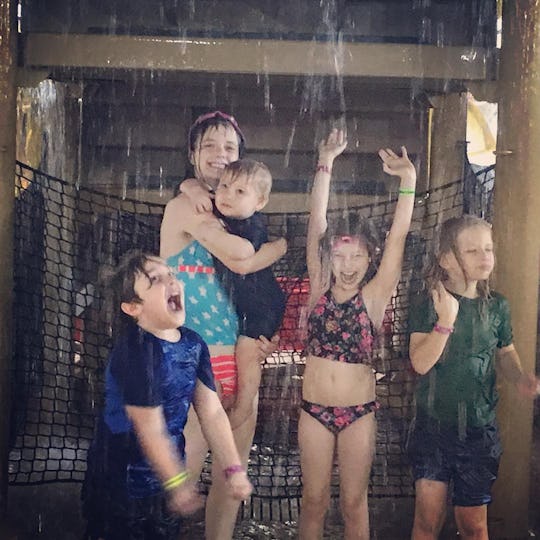 Courtesy of Steph Montgomery
10 Reasons Having 5 Kids Is Actually *Easier* Than Having 1
Whenever I tell someone I have five kids, their eyes get wide and their mouths drop open a little, like it's the most shocking thing they've ever heard. And then, of course, come the questions: "Are you religious?" (Not at all.) "Are they all yours?" (What does that even mean?) "How do you manage it all?" (Like any other parent.) But having five kids is actually easier than having one kid, you guys. Yes, I'm serious.
I'm not saying that our house isn't chaotic and loud, because it totally is. And I'm not saying I just intrinsically knew how to parent five children, because it's definitely taken some time to figure out routines for getting my children ready, fed, and put to bed each night. But my partner and I, and our children, eventually found our groove, and now life is so much easier than it was when I was responsible for just one child.
When my husband and I decided to blend our families together, and then have baby number five, I thought things would be unbelievably difficult. And, yes, people definitely questioned our sanity. But when we found our new normal and the dust settled, I realized our new normal was much, much easier to handle than I could've imagined.
I think it's easier to have a house full of kids because they inevitably entertain themselves, so I don't have to be "on" all the time. When I had only one child I had to come up with daily plans and provide all the entertainment for my tiny dictator, which meant being a parent 24 hours a day, seven days a week, at all hours of the day and night. As much as I tried to encourage my daughter to be independent, it was hard to not be her default playmate. After all, I was it.
But now that I have five children, most days I can just tell my kids to go play and trust that they'll figure out how to entertain themselves and, by proxy, one another. So yeah, I would've been the last person to guess that having five kids would be easier than having one, but it totally is, and for the following reasons: