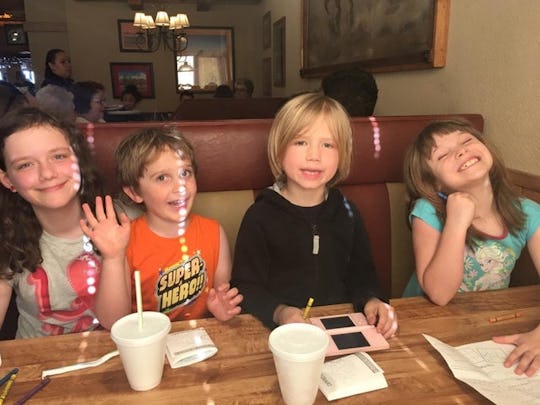 Courtesy of Steph Montgomery
10 Reasons Having Four Kids Is Easier Than Having One
10 years ago, if you would've told me that I'd have four kids I would've laughed in your face. I planned on having one or two kids, maybe. And when I finally became a mom I realized how taxing parenthood truly is. Parenthood, in no uncertain terms, felt like my undoing. And then, against my better judgement, I went on to have another kid. And then I met a guy with two kids, and then we decided to get married! But the most surprising part? Me realizing that having four kids is easier than having one.
I know you're probably thinking that this is some kind of delusion, or a story I tell to make myself feel better about my situation. But once you get past the mess, the chaos, and the hellish amount of noise that four kids can collectively make, you realize it actually is a hell of a lot easier to be a mom to four than it was to be a mom of an only child.
I think, in big part, my life is easier simply because my kids help each other and, by proxy, help me. They each do their chores (with some complaining and cajoling), and the older siblings teach their little brothers and sisters things I could probably never teach them — how to win at Mario World, what it's like to have a crush, and even how to use the potty (for real). The more kids I had the less I had to be "on" all the time. With four kids, I found myself having more moments of silence and self care than I did when it was just me and a single baby.
I won't pretend my experience is universal, and I'm sure another mom with four kids is going to have a very different perspective. But, in my opinion, having four kids is way easier than having one, and here's why: