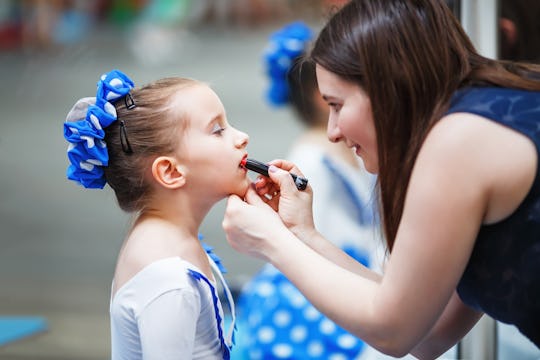 If you're A Dance Mom "your favorite drink is wine and you're not shy about the fact that you're a little bit of a snob about it." Alex Veresovich/Shutterstock.
10 Signs You're Definitely Becoming A Dance Mom
My mother was passionate about dance and studied it through early adulthood. I did, too, though I didn't inherit all of her natural talent. So it wasn't a huge surprise when my daughter took to dancing lessons immediately. I would bring her to a toddler movement class, which was the highlight of her weekend, and when she was 4-years-old I enrolled her in a beginner combo ballet-tap class at the same neighborhood studio where I had taken lessons for 12 years as a kid. The next thing I knew, I was a dance mom. Guys, I'm not mad about it.
If all you know about dance moms is from the reality series on Lifetime, I definitely don't fit that mold. Dance — like acting, and soccer, and piano, and all the activities our two kids enjoy — has its place in our lives. Homework still has to get done. My partner and I don't pull our daughter out of school for more intense barre classes. I don't miss work on account of getting my kid to the studio. As a working parent and a dance mom, I need to earn a salary to pay for the classes, so I call on my parents to help out with dropping and picking up our daughter. But I want to make it work because I loved taking dance class as a kid. I mean, it was freeing. There was a time and space where everything but the music and the mirror (catch the reference, A Chorus Line fans?) fell away. I was a chubby kid but I was never made to feel like I didn't belong in a leotard among girls of all shapes and sizes who shared my passion. Knowing how it feels to love something like dance, I have been encouraging of my daughter's interest in the art since day one.
As much as I consider myself a dance mom, I probably fall short of the requirements other self-proclaimed dance moms have. My husband and I don't travel to competitions and we don't spend money on new costumes constantly. I define "dance mom" as being 100 percent supportive of my daughter's efforts and ambitions when it comes to her extra-curricular activity, which is, in this case, dance. So if you're wondering if you're becoming a dance mom, here are some telltale signs: