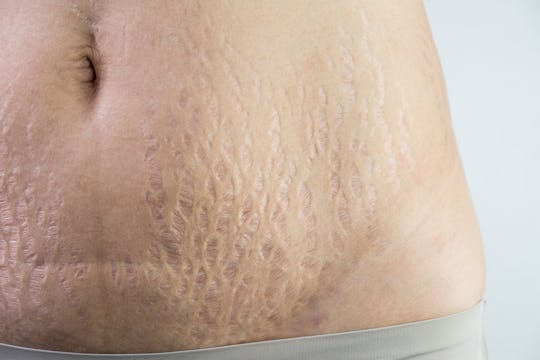 khobenz/Fotolia
10 Things About Postpartum Bodies That Seem Gross But Are Actually Beautiful
Beauty is in the eye of the beholder. But beholders aren't born in a vacuum, and when it comes to female beauty societal definitions are pretty narrow. There's also very little in that definition that has any kind of overlap with postpartum bodies, either how they look or what they do. But I believe there's a lot about postpartum bodies that seem gross but are actually beautiful, or at the very least not at all gross.
It's easy to think that after childbirth all the changes your body went through during pregnancy (dramatically and relatively quickly) are going to end and then you immediately go "back to normal." But while your body may eventually morph back into it's "traditional" size and shape, the truth is that it takes time and more and more changes will take place before you get there. After all, your body has just done something monumental, so it needs a while to re-calibrate and find its footing again. Give it time and patience, and don't begrudge it some "grossness." Because you may think it's gross based on societal standards of female beauty, but there's some really miraculous, astonishing, and truly lovely things that are happening within and without you.
Of course, whatever your feelings are about your postpartum body are valid. You don't have to be in love with it entirely to prove that you're some "woke," empowered woman capable of completely separating yourself from the detrimental messages this society sends women about their bodies. But if you're thinking your post-birth flesh bag is nothing but nastiness, here are a few downright badass things about your body that are absolutely worth celebrating. Yes, even if they look or feel a little "gross."