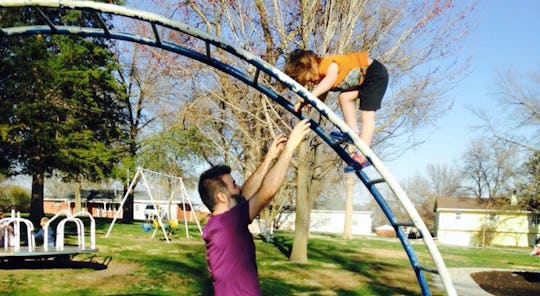 courtesy of Steph Montgomery
10 Things Every Grown-Ass Dad Does Without Thinking, Because This Stuff Isn't Hard
Like it or not, and even in the year 2018, moms are still the default parent. We're automatically expected to do everything from changing diapers and being the main point of contact for school, to driving our kids to doctor appointments and facilitating visits with grandparents. At the same time, dads are treated like rock stars for doing the bare minimum, and given a pass when it comes to accomplishing daily parenting duties. I thought this was "normal" until I met my current husband, and learned there are things every grown-ass dad does without thinking. After all, gentlemen, this isn't rocket science.
I'm not even talking about the difficult parts of parenting. I don't expect my partner to handle things like a medical emergencies or life-altering decisions on his own. In those instances, our children need both parents to be engaged at the very same time. I do, however, expect him tackle daycare drop-off, offer to stay home with a sick kid, or handle bedtime all by himself and so I can take a damn shower every once in a while. Unfortunately, for some dads — like my ex — these tasks seem way harder than they actually are. I can count on one hand the number of times my ex-husband actually changed a poop-filled diaper. Instead, he would wait to see if I would do it first and, more often that not, I did. He didn't take our kids to the doctor, or managed bedtime, or made them breakfast in the morning. It was frustrating, because I knew he was capable of being an engaged parent. He just didn't want to be.
I am happy to say that my husband and I have found a rhythm in our relationship and in regards to our parenting. He can do anything I can do on autopilot. Hell, sometimes he's better at a parenting task than I am (shh, don't tell him). Some dads get credit for being awesome when they are really just average, and some are actually amazing at being dads, without even thinking about it. So with that in mind, and if you're wondering where your parenting partner falls on the spectrum, here are a few things dads just automatically do, because duh.