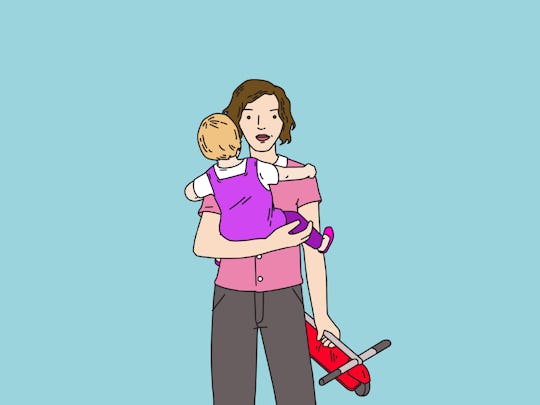 Allison Gore/Romper
10 Things Feminist Moms Refuse To Say To Their Kids About Their Bodies
You know how movie trailers for big dramatic blockbusters always highlight scariness by starting with "In a world..."? Like some gravelly voiced narrator saying, "In a world where freedom is a legend..." or, "In a world where enormous telekinetic bugs are our overlords..."? Well I'm going to follow suit by assuring you: In a world where body shaming is as common as seeing a Starbucks less than a block from another Starbucks, it is hard out there for a feminist.
I have met zero women and very few men who haven't experienced body shaming at some point in their lives, largely because it's cyclical. And, as with many of the worst and most vicious cycles, it often starts and perpetuates within families. A parent is not the only voice a child will hear in their lifetime, but they're often one of the loudest. Even an off-handed comment that we forget as soon as the words leave our lips can stay with a child, for better or for worse, for the rest of their lives.
Feminism and body positivity are two philosophies that go hand-in hand, so it makes sense that feminist mothers would be sensitive and mindful about how they speak to their children about bodies in general, but especially about their children's bodies in particular.
To wit, I have included a list of 10 things I would never, as a feminist, allow myself to say to my children and why. All are, unfortunately, things I have heard, either directly or from friends' recounting their own childhoods.