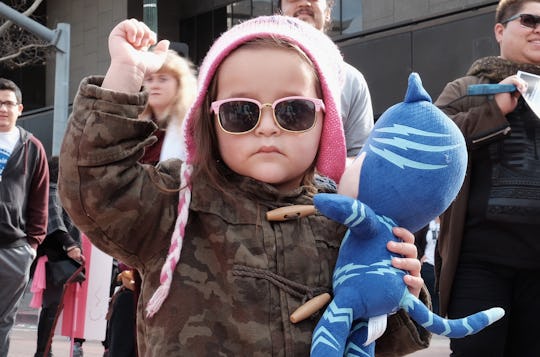 Sarah Morris/Getty Images News/Getty Images
10 Things That Won't Actually Turn Your Kid Into A So-Called "Snowflake"
The term "snowflake" has become a popular quantifier as the result of a turbulent political climate, usually used to describe a left-leaning individual who is supposedly "easily" offended. It's meant to be a disparaging attack on a person's perceived strength, and it's used so often it's almost laughable. So if you're a left-leaning parent, know there are more than a few things that won't actually turn your kid into a snowflake, mostly because "snowflake" isn't really a thing. Raising kind, inclusive, equality-loving, patriarchy-fighting children is, and that's never a bad thing.
I aim to raise my kids to be self-assured, compassionate, and sensitive. It, in no way, means I'm tip-toeing around some underlying fear of damaging their self-esteem or self-worth, or whatever people who use the term "snowflake" assume I'm doing as a parent. And actually, I'm not sure why it's a bad thing to have kids who care so deeply about the world around them, and their place in it, that they're moved to act and fight for others. I'm doing my damnedest not to raise entitled, narcissistic children, incapable of stomaching criticism. I want them to understand their ideas can, and will, be challenged at some point, and when it happens it's not the end of the world. But I know they can be both sensitive and have a backbone, because the two traits aren't mutually exclusive.
The core lesson so-called "snowflakes" live by is empathy. The idea that being unapologetically empathetic makes a person weaker, or their points less valid, is absurd. Our world is evolving and my children will evolve with it. The following won't turn either one of my kids into some overly sensitive, highly offended, take-no-criticism kind of person. Actually, these things will help them see that the world isn't just about them. It's about us all.