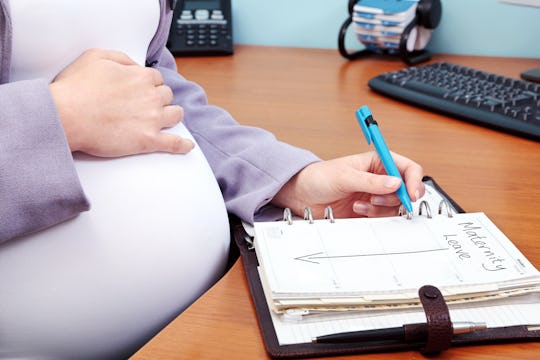 Fotolia
10 Things That'll Definitely Happen During Your First Day Of Maternity Leave
Contrary to popular belief or your own unrealistic expectations, maternity leave isn't just a few weeks (or months, if you're lucky) of snuggling with a sleeping baby. Recovering after childbirth and getting to know a tiny human is a huge deal, and there are a few things that are bound to happen during your first day of maternity leave, some of which are no fun at all.
While I had thought they would be full of magical moments, in reality, my maternity leaves were fraught with worry, anxiety, and too little sleep, compounded by my challenges recovering after childbirth and trying to manage postpartum depression. My babies also had challenges breastfeeding, which meant re-admission to the NICU for one of them, home care with a biliblanket, and a home health nurse visit every day. I can't tell you how many hours of sleep were lost worrying about how much my babies were or weren't eating, monitoring the contents of their diapers and keeping myself from calling the hospital. Again.
I am not saying that my maternity leaves were no fun at all. I loved the quiet moments snuggling alone with my newborns, getting to learn their cries and the needs they were communicating, first smiles, baths, and taking a million pictures. I also loved binge watching shows on Netflix and actually getting some sleep.
So, whether your leave is too short (like mine) or you're able to stay at home for your baby's first year, there are so many things that are likely to happen your first day of maternity leave. As I prepare for my next (and hopefully final) maternity leave, I have found myself making plans that I will in all likelihood not see come to fruition. Time for a dose of reality, friend.