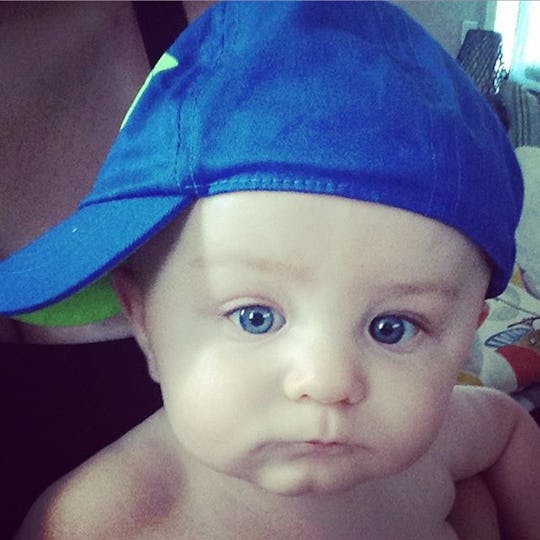 Courtesy of Hannah Westmoreland Murphy
10 Things You Learn About Your Baby When You Decide You're Through Having Kids
Shortly after our oldest son turned six months old, my partner and I had concluded that we were done having children. Just a few days later, we found out that we were pregnant again, and though I didn't feel like we were ready, we delivered our second son the very next winter. After he was born, we said we were done again, for real this time, and we are. While I'm sure in our decision and have taken measure to make sure we really are done having children, I'm still coming to terms with the things you learn about your baby when you decide you're done having kids that can, well, make that decision so very bittersweet.
I've never been what I would describe as a "baby person." Not until I had my own, of course. Even after becoming a mother to the most perfect baby I've ever seen, a part of me felt like I was done having children; like I was only meant to have one child. When we found out we were unexpectedly expecting our second son when our first was barely seven months old, I was terrified, but a small, buried part of me was excited to get a second chance to relive the magic that was bringing our first son into the world.
Thanks to hyperemesis gravidarum, I hated pregnancy the first time around, but assumed it would be different the second. It wasn't. I hated pregnancy then, too. After months of miserable morning sickness, I succumbed to the idea that my second pregnancy would be just like the first, and settled into the inevitably that it was my lot in life to be miserably pregnant. Turns out, I was wrong again. My second pregnancy wasn't exactly like my first, just like my second son isn't exactly like my first. When baby number two was born, my partner and I decided that we were done having our own biological children, and ever since then I've realized how very different it feels to be the mother of a baby this time around.
Though I'm confident in my decision to get a permanent form of birth control, there's a little void that's been left over, constantly reminding me that there's no going back. There's not going to be another newborn of my own in my arms ever again, and though most of me is OK with that, that little void is causing me to take note of just how quickly my baby is growing up. As a result I've learned a lot of things, including the following, about this baby and, well, now I just want time to slow the eff down now.