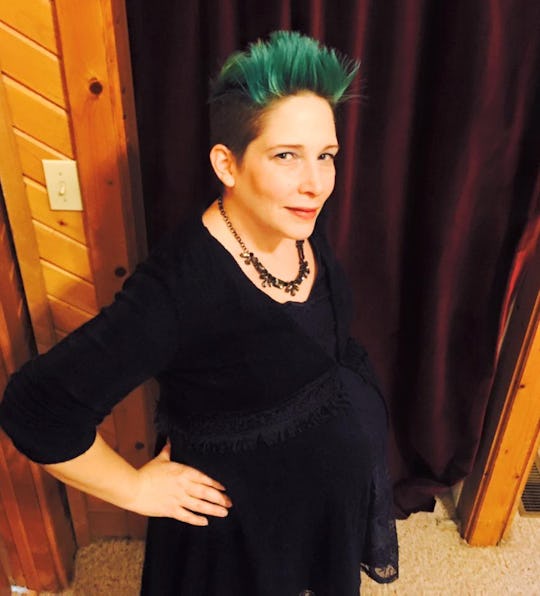 Courtesy of Steph Montgomery
10 Times Society Expects You To Apologize For Being Pregnant
It seems like pregnant people seriously can't win. In fact, it seems like there are times society expects you to apologize for being pregnant, and that expectation seemingly hits you from all directions and in every facet of your life. Working moms have to be consistently awesome at our jobs, despite whatever challenges pregnancy might throw at us. Rather than offering sympathy, some people treat complicated and high-risk pregnancies as proof women are liabilities in a workplace, or that pregnant people should just stay home and not try to "have it all." I personally have faced a ton of subtle discrimination in the workplace about my pregnancies. It made me feel like I had to apologize for starting and growing my family, and that is so messed up.
On the other hand, if a pregnant person chooses to stay home or gets put on bed rest or has to be hospitalized for pregnancy complications, they are treated like they're lazy or wasting their potential (as if growing and raising humans isn't amazingly hard work), or they're treated like they're not doing pregnancy "right." Then, if I chose to work out, people got so uncomfortable at the sight of my pregnant body that it made me want to jokingly pretend to go into labor just to mess with them.
I wish people would stop trying to tell pregnant people what they can and can't do with their bodies, as if they lose the right to bodily autonomy when they conceive. Same goes with commenting about what a pregnant person eats or drinks. (I say this for your safety, because you definitely don't want to get between a pregnant person and a needed cup of coffee or piece of cheesecake.) I wish we could all just leave pregnant people alone to gestate in peace. Pregnancy is hard enough without feeling like you need to apologize.