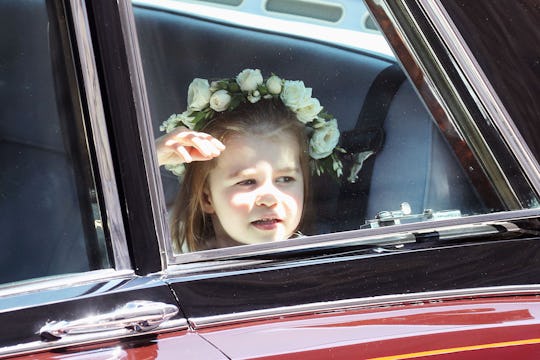 Chris Jackson/Getty Images Entertainment/Getty Images
10 Times The Royal Kids Totally Stole The Show At The Royal Wedding
There were basically two things that made the royal wedding worth waking up early on a weekend for. To see the live tweets about Meghan Markle's dress and catch Prince George and Princess Charlotte being cute, obvi. Neither disappointed, of course, as you'll see when you check out the pics of all the times the royal kids stole the royal wedding. Prince Harry and Meghan Markle were the main event, but little George, Charlotte, and all of their tiny cousins and friends made up a great sideshow of adorableness on Saturday morning.
The British have the best tradition of having kids in their bridal party. Not only does it free the adults from having to wear bridesmaid dresses they don't love, it makes for the cutest pictures. Princess Charlotte was a flower girl, or bridesmaid, for Harry and Meghan's ceremony and Prince George was one of the page boys who carried the bride's train. They performed their royal wedding duties rather well, but as you can see from the behind the scenes pics, they also had a little fun.
As was to be expected, of course. George and Charlotte were also in Pippa Middleton's wedding last year, and watching them be corralled by their mom and nanny was way too cute. This royal wedding was no different. Here are just a couple of times the kids really stole their Uncle Harry's wedding.
When They All Waved From The Car
George Can Barely Get A Wave In
And Made Their Way Into The Chapel
When Charlotte Just *Had* To Wave
Although She Was Reluctant At First
When They Expertly Carried The Train
They Really Did Their Best
...But Then Couldn't Help But Photobomb The Bride
There Was The Teenaged Cellist Who Wowed The Crowd
And This Kid Who Really Had The Most Fun
But Even Non-Royal Kids Had A Blast
There's nothing like little kids all dressed up and on their semi-best behavior for a royal event. George and Charlotte both have very distinct personalities, and they really aren't camera shy. When her mom gave birth to baby Louis last month, Charlotte stole the whole show by turning around to the press and giving them a cheeky wave.
George, too, is pretty hilarious. Pictures of him and his dad on their way to school last fall flooded the internet. The little guy looked pretty miserable to have to head to school instead of being able to play at home. The look on his face became an instant meme.
Him and his little sister also make headlines every time they throw a temper tantrum in public. Charlotte on the tarmac of an airport, George at his sister's christening and basically every time he has to stand up for too long. It's pretty hilarious knowing that just because they're part of the royal family doesn't make them not kids. If anything, it's shocking that they make it through so many public appearances with their parents at all. Not a lot of tots could handle the pressure. Or the itchy knee socks.
They're both a handful, according to their parents. And that's by design. Prince William, who runs a mental health awareness campaign with his brother, said at an event for Hands Together that he and Kate are raising both their son and daughter to be open about their feelings. He said, according to Us Weekly:
Catherine and I are clear that we want both George and Charlotte to grow up feeling able to talk about their emotions and feelings. Over the past year we have visited a number of schools together where we have been amazed listening to children talk about some quite difficult subjects in a really clear and emotionally articulate way — something most adults would struggle with.
So although they might get the ol' crouch and scold from their mom at times, the kids are being taught that they're supposed to speak up when they feel like it. Then again, their parents are winging it just like the rest of moms and dads out there. Middleton said at an event this year that being a mom to two rowdy kids (and a new baby) is not always easy.
She said, "There is no rule book [for parenting] no right or wrong — you just have to make it up and do the very best you can to care for your family." Whatever she and William are doing is definitely working, because her kids are very adorable and funny. Even if they do get a little stubborn when they have to be responsible at weddings.