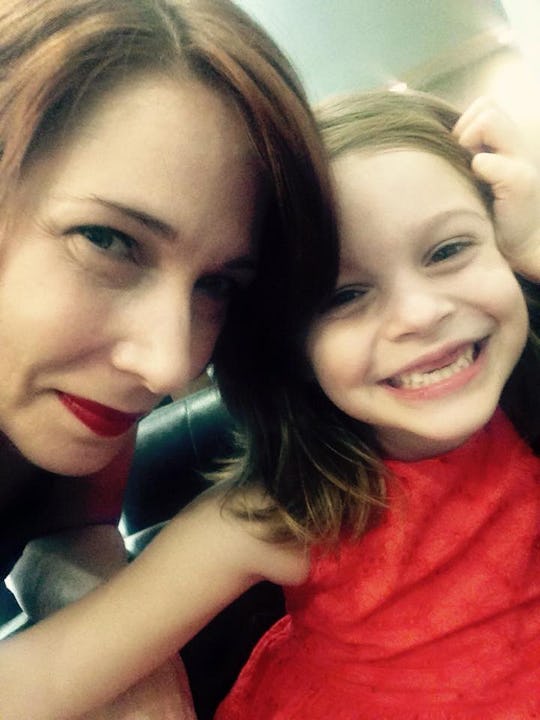 Courtesy of Steph Montgomery
Being A Sexual Assault Survivor Changed How I Parent My Daughter
A few months ago, I posted online about some of the first times I experienced sexual violence. It was one of the hardest posts I've ever written. So many of these assaults happened when I was younger than my daughters are now. That thought makes me angry and terrified. I want desperately to protect my kids from harm, and from a childhood like the one I experienced. Consequently, there are so many ways that being a sexual assault survivor has changed how I parent my daughters.
I can't actually remember my life before sexual violence. From an early age, there were unwanted touches and games of doctor, rape threats from a neighbor kid, and sexual harassment from boys at school. Any complaints were generally dismissed as playground mischief or "boys being boys" or blamed on me for instigating or antagonizing them.
Then came my sexual experiences as a teen, many while my parents were in the next room and many that involved force, coercion, and things going much further than I had wanted to or felt comfortable with. I was afraid. I wanted to be liked. I was ashamed. I thought it was my fault, and I thought that if I told my parents they would blame me or punish me for allowing it to happen. Worse were the times when I, like all adolescents, made some really bad choices, like drinking too much or going home with a boy. I was so afraid to tell anyone because, in the end, I thought I deserved it. After working professionally with sexual violence survivors, I have learned that my experience is far from unique.
According to the Rape, Abuse & Incest National Network (RAINN) one out of six American women has been a victim of rape or attempted rape in her lifetime, and most of those assaults happen to girls and young women before they reach the age of 24. I want a different life for my daughters. I want them to know that they own their bodies, I want them to feel empowered to stand up for themselves and set boundaries, and I want them to speak out when they hear rape jokes or see a friend being harassed. I want them to tell me if something horrible happens. Above all else, they don't deserve to grow up thinking that sexual assault is a normal part of reality they have to accept.