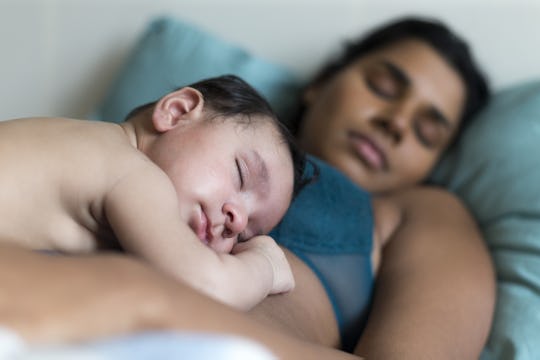 Fotolia
10 Ways You're Pissing Off Co-Sleeping Moms Without Even Realizing It
There were so many things about motherhood that I didn't know prior to becoming a parent, but the fact that every decision I make is judged or scrutinized is easily the most surprising part of being a mom. I had no idea that so many people, from well-meaning friends to absolute strangers, would care about the things I do or how I raise my son. Sometimes the judgment is pretty intentional, but other times people aren't necessarily aware of the ramifications of their actions or comments. There are ways people don't realize they're angering moms who co-sleep, for example; ways that I have become acutely aware of and familiar with, as a mother who co-slept with her kid and was on the receiving end of more than a few raised eyebrows and statements of concern.
Sadly, there's so much misinformation about co-sleeping, that it's pretty normal for people to assume it's dangerous. However, for most mothers and children around the world, co-sleeping is the norm, and a practice that isn't questioned in the slightest. Co-sleeping is more common in the United States than most people believe it to be, but parents who co-sleep aren't all that quick to talk about their choice because, well, being judged isn't very much fun. While I was very confident in my decision to co-sleep with my son (it literally helped his newborn body regulate its temperature) I didn't want to hear about the "dangers" of co-sleeping or some horrible story about a baby that died while co-sleeping. Not helpful, people.
Motherhood is difficult enough without having to defend every single decision you make as a parent. If we, as a society, truly value mothers the way we claim we do, we should be doing whatever we can to support them, instead of judging them and shaming them and calling into question every choice they make. So, it's probably worth it to take a second and examine the ways you could possibly be angering a co-sleeping mom, because you can't change something when you don't realize you're actually doing it.