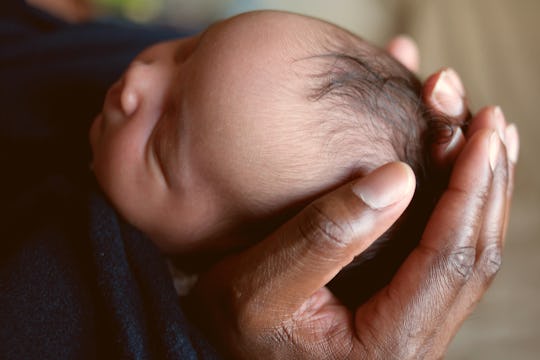 Fotolia
11 Moms Share What It Felt Like To See Their Partner Hold Their Baby For The First Time
If you are parenting with a partner, there's a pretty good chance that, before your baby is born, your partner is the person you love more than anyone in the world. So seeing that person's first reaction to this third, tiny person that you are going to be parenting together? All the feels, as the kids say. (Are the kids still saying that? What about "Wuzzup"? I'm kind of out of the loop.) When I asked a group of mothers what it felt like to see their partner hold their baby for the first time, they certainly had all the feels (whether or not the kids are saying that). Then I had all the feels. Deep and wonderful feelings were had all around, is my point!
As with anything baby or parenting related, there are no universals. Some parents cry happy tears, others pass out (or come close), and some simply sit in quiet contentment as they process thoughts like, "WTF, I'm a parent now." My own partner was happily chill about it. Our son was literally the first infant he'd ever held in his life. There was no crying, no overwhelming crazy emotions and he was the first to hold him because I had a c-section. When asked, "What does it feel like?!" He responded, "Like holding warm laundry." The response was almost disappointing in how hilariously mundane it was. Yet, when I got to hold him a few minutes later, my first thought was, "Actually, warm laundry is the perfect description." Upon the birth of our second child, he got a little more emotional. By then he had a better sense of what being a parent was and how amazing kids are and there was a sense of "everyone is here." Also, he'd had her name picked out for about 12 years, so there was a sweetly prophetic feeling to her being there in his arms.
But what did other moms have to say about seeing their beloved hold their tinier beloveds? Here are just a few responses (and I suggest you have a box of tissues nearby, because they're emotional and heartwarming and wow, here come the feels, again).