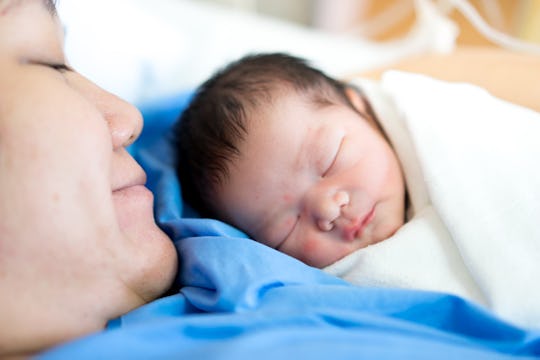 Fotolia
11 Of The Cruelest Things Anyone Could Possibly Do To A Postpartum Woman
I can't believe it's been nearly two years since I gave birth to my son and joined the ranks of exhausted-but-totally-in-love postpartum moms. My memory of the first few months of his life are already colored by nostalgia, so I typically smile when I think about my earliest days as a bio-mom. (Oxytocin is a helluva drug.) Fortunately, and for accuracy's sake, I'm petty AF and keep a journal, so I have a trusty log of all the not-so-great stuff, including many of the cruelest things anyone could do to a postpartum woman.
The worst part of these egregious sins against postpartum moms? Most of them are committed unintentionally, so the people doing it have no idea that they're completely ruining your life. They're just walking around, ostensibly trying to be nice while visiting or living with you and your new baby, and nibbling your snacks or glibly changing the HBO Go password they know you need in order to catch up on Game of Thrones. That means they're likely to be caught off-guard or even upset once they realize you're annoyed. But, like, whatever. After all, you just made a person. If that doesn't entitle you to a little grace when you're not totally diplomatic in the face of irritating disruptions to your already disrupted life, I don't know what does.
If you just gave birth (or are anxious to do so as soon as possible, 'cause you feel like you've been pregnant forever), bookmark the following list and share it with everyone you know. That way, they'll either know what not to do, or they won't be able to say you never warned them before they messed up and incurred your freshly non-pregnant wrath. Knowing is half the battle, folks.