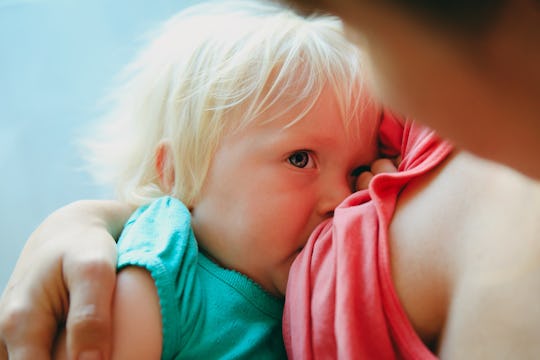 nadezhda1906/Fotolia
11 Pieces Of Extended Breastfeeding Advice I'm Really Glad I Ignored
The world is full of advice. Some of it is good, some of it is bad, but more often than not "advice" is just a sanitized word people use for "unsolicited opinions." So, with this in mind, please know that there's a ton of extended breastfeeding advice that I'm really glad I ignored.
A word on extended breastfeeding, so we're all on the same page as to what that means: it's simply nursing past your child's first birthday. That's it. Whether you stop nursing at 14 months or seven years (which is a thing, by the way, and it's totally fine even if it's not your thing) it's all still "extended breastfeeding." The American Academy of Pediatrics (AAP) recommends that parents exclusively breastfeed their babies until six months, at which point they should introduce foods and continue to breastfeed until 12 months "or beyond."
"Or beyond" has created some contention among parents and childcare experts because, well, what does that mean? What's optimal? The truth is we really aren't sure, though I'd suspect that the best definition of "or more" varies from person to person. For me, "or more" was 17 months for my son and 22 months for my daughter. For my friend "C" it means continuing to nurse her 4-year-old. For yet another friend, it means she happily closed up the Milk Bar the day after her daughter turned 1.
Breastfeeding is an intensely personal experience, so advice pertaining to it can be good for one person but not another. Here's some of the things I heard that, for whatever reason, was not the best for me: