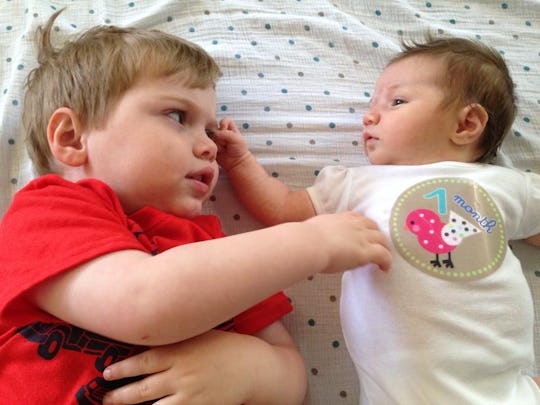 Photo courtesy of Jamie Kenney
11 Things I Thought I Had To Do After I Had My Second Baby
My children are two years, eight months, and 25 days apart. I always knew I'd wanted more than one child, and in the 998 days between having one and wanting a hypothetical second, I developed a lot of weird ideas about what life would be like as a mother of two. In fact, there were things I thought I had to do after I had my second baby. In retrospect, most of these notions were completely unnecessary or even, in some cases, totally impossible (or at least not realistic).
Don't get me wrong, life with two children is amazing. Moreover, it's amazing in a lot of the ways I sort of predicted. Have you ever seen a video of a puppy and a kitten playing together and you just kind of melt because they're so completely adorable? Having two children, for me, is kind of like living in a puppy and kitten video. It's adorable, it's often pretty funny, and, as with two adorable baby animals of different species, the things that you experienced with one do not necessarily prepare you for having the second, let alone both of them together. Yet, somehow, it works out and everyone winds up living together (mostly) harmoniously.
Getting to that harmonious spot can be a challenge, though, especially when you have to knock down so many preconceived notions and assumptions you have at the beginning. You can't be blamed for these notions, but you'll soon find you have no room for them in your life as a mom of two (especially since the extra diapers and gadgets are taking up, like, every inch of extra space you previously had).