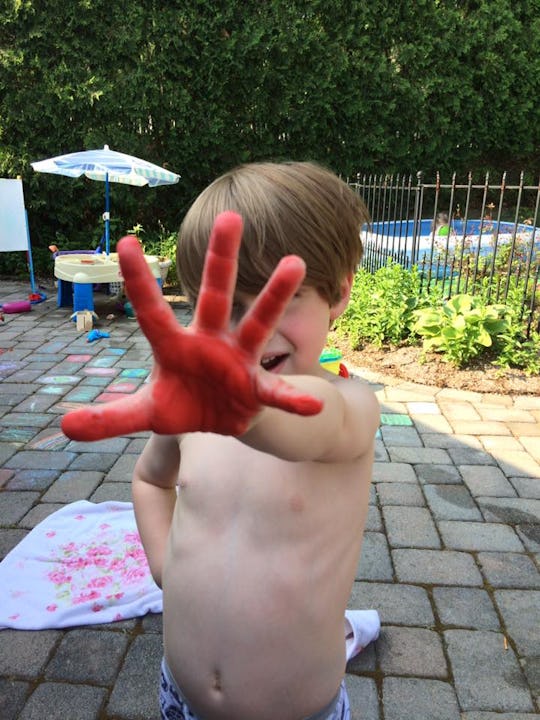 Courtesy of Jamie Kenney
11 Things Well-Meaning Strangers Need To Stop Doing When It Comes To Other People's Kids
I'll admit that my life is pretty precariously balanced right now. It's not that I need to set plans in stone but, as a mom, I thrive on routine. On Mondays, for example, we go grocery shopping. Still, all the planning in the world doesn't keep me from being tested literally every single week, not by the chore, not by my children, but by well-meaning strangers who consistently manage to throw off our groove. It's not just the grocery store, either: everywhere, sweet people, who only want to help, just need to, well, not. There are so many things well-meaning strangers need to stop when it comes to kids.
People have a lot of feels when it comes to kids and, believe me, I get it. Like, if this entire topic could have a caveat/thesis statement it would be, "I get it." I'm a natural extrovert, I adore children, and I feel like I have a good rapport with most kids I encounter. I know the instincts of well-meaning strangers because, more often than not, they are my instincts, too. However, there are times we must fight our natural inclinations in order to accommodate other people's feelings and plans, because the road to "parent hell" is paved with good intentions from kind strangers.
You've probably heard the famous Wendy Mass quote (or more likely, seen it on your favorite social media feed) that states, "Be kind, for everyone you meet is fighting a battle you know nothing about." This goes, like, triple for parents. Balancing a child's wants, needs, triggers, and everything in between is a full-time job in and of itself, without all the other crap one has to deal with as an adult with. You waltzing into my life, stranger, with your own aims and agendas (and even if you think they are compatible with mine) is likely to cause issues and screw up a good chunk of my day (or at least my hour, which can feel like a day in parenting time).
And so, with this in mind please, just, don't do the following. Please.