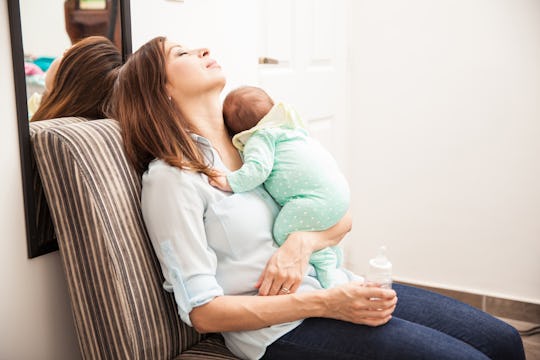 Fotolia
11 Things Your Kid Wants You To Know When You Feel Like Quitting The Whole Parenting Thing
The moment my son was placed into my arms, I was acutely aware that I was never going to be good enough for him. Not the most positive thought, I know, but my flaws came bubbling to the surface the moment I looked into his eyes and I knew that, to me, he would always be perfect and I never would be. I knew I would mess up and I knew I would make mistakes and I knew I would get frustrated. I didn't know, however, the things your kid wants you to know when you feel like quitting the whole parenting thing; things that put everything back into perspective; things that I need to remind myself of when I'm so exhausted and overwhelmed that getting into my car and driving into the sunset sounds just too damn good.
I think every parent (mom or dad) has those moments when they feel like just quitting. I also know that so many parents (especially mothers) don't feel like they can talk about or even admit to having that very real, very understandable feeling. Unfortunately our society continues to hold onto some very outdated and unnecessary gender stereotypes that equate motherhood to the end-all-be-all of every woman's identity. So, what kind of a woman are you if you don't absolutely love and cherish every single aspect of motherhood, even if it's driving you insane and keeping you from sleeping and throwing plastic toys at your face? In my opinion, a normal one. Feeling fed up and stressed out is normal, and more mothers need to hear that there's absolutely nothing wrong with them, or their parenting, when they feel like running away and leaving motherhood behind.
So, in the name of honesty and transparency, I am more than willing to admit that I have felt like giving up on motherhood all-together. I have experienced more than my fair share of moments that make me feel like I just can't be someone else's mom for another single second. In those moments, it helps to take a step back and tell myself all the things I think my son would want me to know. They're the same things I saw in his eyes when I held him for the first time, and felt incredibly incapable. They're the things that remind me that even when I feel like quitting or feel like I'm failing, my son sees what I can't see: a wonderful mother.