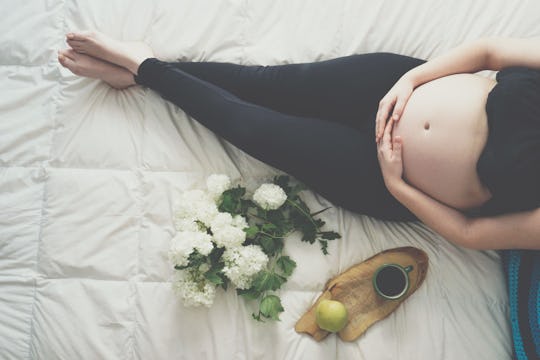 sianstock/Fotolia
12 Things Every Basic Pregnant Woman Does When She Wakes Up The Morning
I never really thought of myself as basic. I mean, I reject the gender binary, laugh at socially contrived beauty ideals, and kick gender stereotypes to the curb. But when I was pregnant I found myself bump-deep in leggings, weekly Target visits, never-ending Netflix marathons, and "pregnancy update" social media posts. I was on my way to becoming a basic mom. To be honest, I've made peace with being basic, because basic things make me happy. And when I realized there are things every basic pregnant woman does when she wakes up in the morning, and that those things fit perfectly into my schedule, I vowed to never apologize for being the basic pregnant woman, and mom, I am.
Every basic pregnant woman's day starts with coffee, because coffee is life. If her loving partner hasn't picked up her oddly specific Starbuck's order already, chances are she's perfected DIY pumpkin spice lattes at home. Once fortified, she will complete her skin care and makeup routine, following a YouTube tutorial she found for her pregnant skin. Donning her favorite leggings and puffy jacket, she then heads to the gym, but not before taking a bump selfie to document her #pregnancyprogress and post about her morning online. I am a little embarrassed to admit that I did all of those things when I was growing another human being inside my body. Then again, if basic is wrong, I don't think I want to be right.
For the record, I didn't do every "basic girl" thing every day when I was pregnant, or even since my baby was born. I didn't always have the energy for yoga, DIY projects, or trips to Target. I did, however, and with few exceptions, start my day like pretty much every other "basic" pregnant women out there, and I am not ashamed. Let's let our basic flags fly, my friends.