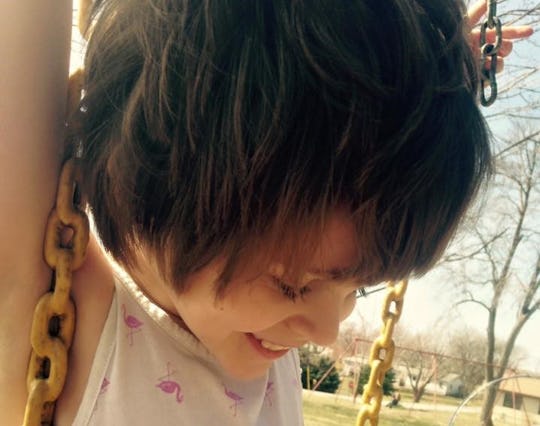 Courtesy of Steph Montgomery
12 Things Parents Of Special Needs Kids Like Mine Want You To Know
My daughter is cheerful and creative, thoughtful and kind, fiercely independent, and a born leader. She's also brilliant, and sometimes uses such an expansive vocabulary you'd think she was a tiny English professor. She's also neurodivergent, with a long list of diagnoses that do not define her, but definitely make parenting her much different than parenting my other kids. It also makes it harder for me to relate to other parents.
As a mom of a special needs kid, I don't often talk about what parenthood, for me, is like, out of respect for my daughter's privacy. It's also hard to admit that I am struggling, and rarely do I assume anyone else will understand what I'm going through. Except, of course, other parents of special needs kids. And while no two children, no two parents, and no two scenarios are entirely the same, many of us are tired, made to feel ashamed, lonely, or in way over our heads, and therefore unable or unwilling to reach out for help, solidarity, or just a break.
The last thing we want, as parents, is to let our kids' disabilities define them. I love my daughter — even the parts of her that frustrate the heck out of me. I also don't want to make her challenges about me. Like, I don't need to hear how "brave" or "strong" someone thinks I am for being her mom. At the same time, I feel so alone. It's hard to admit that you don't have all the answers as a parent, and even more so when your child is violent, cruel, or unable to control her emotions. It's hard to worry, rather consistently, if you're somehow to blame. It's hard to admit that, sometimes, I wish she were different, and I'm 100 times more embarrassed to have those thoughts than I ever have been about her public meltdowns or calls from school. I love my daughter fiercely, and advocate for her the best I can, but it's so hard sometimes, especially since I have other kids with different needs and challenges of their own.
So, most the time, I don't tell anyone about the bad days, save for the myriad of professionals that are involved in my daughter's care but who really don't understand, either. As a result, there are so many things I, and other parents of special needs kids, want you to know. Things like the following: