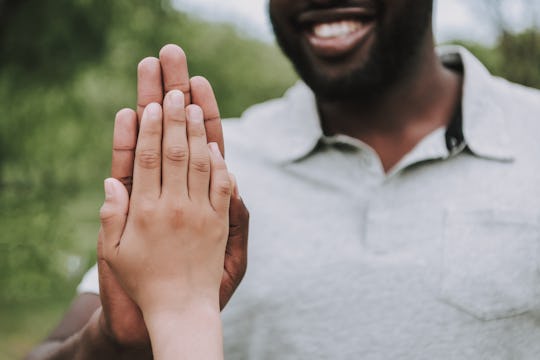 freeograph/Fotolia
13 Moms Share The Most Stereotypical Dad Thing Their Partners Have Ever Done
I'm not one to buy into the trope of the bumbling first-time father who can't figure out which appendage goes in which onesie hole, but even I have to admit there's a reason we all laugh at the meme of the dad "getting the kids ready for bed" (read: wrestling). They're dads, and they inevitably do dad stuff. I knew my partner couldn't be the only one yelling at his kid for being too close to the TV, so I asked moms to share the most stereotypical dad thing their partners have ever done. Let's just say they're a predictable bunch.
My husband is a very competent parent. He makes a mean peanut butter and jelly sandwich and wipes butts with the best of them. I'll even admit that his swaddle game is better than mine. That doesn't mean he doesn't fall victim to dad traps, though — namely, putting our daughter's outfits on backwards. It blows my mind because, um, clothes have tags. He dressed her for splash day at preschool, and if I hadn't thought to check under her shorts and t-shirt, she would have been playing in the kiddie pool with her swimsuit on the wrong way.
Don't get me wrong. I love the socks and sandals set. Just a few weeks ago, my dad texted me to ask for my phone number, and it was the best thing that happened to me that day. So although we won't reduce them to their classic dad moves, we will have a laugh at their expense.