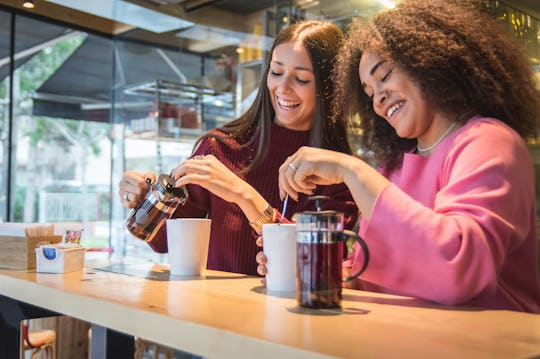 Kar Tr/Fotolia
13 Things I Would Love To Talk About Instead Of My Kid, Because OMG NO
I love my kids, and how great they are isn't lost on me. My daughter is kind, compassionate and thoughtful, and my son is the literal sunshine to my chronically cloudy days. I speak highly of them often because I'm a proud mom, however biased, and think the world should know who'll be running the country in a few years. The thing is, sometimes, there's things — a lot of things — I would love to talk about instead of my kids, because no. Like, OMG no. They're the lights of my life, but I need actual adult conversation that doesn't involve the complex inter-workings of mini-humans. So, um, can't we talk about any of the thousands of other topics that would give the mom in me a break? Just for a few minutes, max?
Don't get me wrong: it's not that I tire of talking incessantly about the humans I birthed. But with so many other things going on, it can feel — what's the word — inconsiderate, maybe? Plus, seemingly never-ending conversations about my kids makes me feel like outside of their lives, nothing else exists. I don't exist. I mean, not to brag, but I do some pretty great things, too. I write, run marathons, do the mom thing, and can bake a pretty rad batch of cookies. I don't have to chat all about me, but a little perspective by way of any other topic of conversation would go a long way.
So, I have to ask: why can't we talk about anything else other than how often my 5-year-old son can say "fart" in a day? It's not that interesting, is it? Can someone ask me another question besides how I sleep trained successfully, how I handled drop off on the first day of school, and what I feed my kids on a regular basis? If so, here are some other topics I'd be more than happy to discuss instead of my kids. Please.