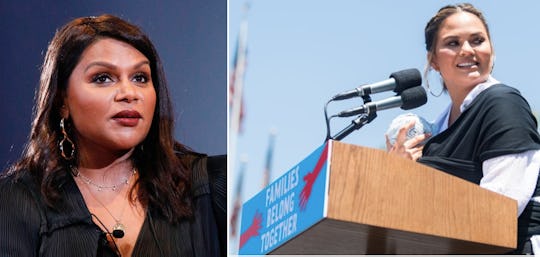 Emma McIntyre/Getty Images Entertainment/Getty Images/ Lars Niki/Getty Images Entertainment/Getty Images
15 Celeb Parents Who've Stood Up & Advocated For Immigrant Families
Since before he was elected into the Oval Office, one of President Donald Trump's primary goals has been to eliminate illegal immigration, or more specifically and perhaps most notably, to build a border wall. Over the past three years and in recent months, the measures taken by his administration have been concerning, cruel, and overall horrifying. Many advocates and concerned citizens have spoken out about the Trump administration's policies, including many celebrity parents who've stood up for immigrant families and their rights amid this ongoing humanitarian crisis, proving there are many people out there ready to use their status for good.
Many have deemed what's happening at the border as a "crisis," and many celebrities are using their platform to advocate for vulnerable families attempting to seek refuge and safety in the United States. The situation, to this day, is dire. According to the American Civil Liberties Union (ACLU), at least seven migrant children have died in recent months either while they were in custody of U.S. immigration officials or after being detained.
Earlier this summer, drawings by immigrant children depicted appalling conditions they experienced while in detention centers. The ACLU has said that detention facilities are "dangerously overcrowded" and migrants held there are "forced to wear soiled clothes for days at a time."
Celebrities have been actively and loudly speaking out against the Trump administration's immigration policies for years now, dating back to his family separation policy that tore countless families apart and it, as NBC News reported recently, "never really ended." The immigration crisis is still very much ongoing and here is a sampling of celebrity parents who've stood up for immigrant families caught within it.