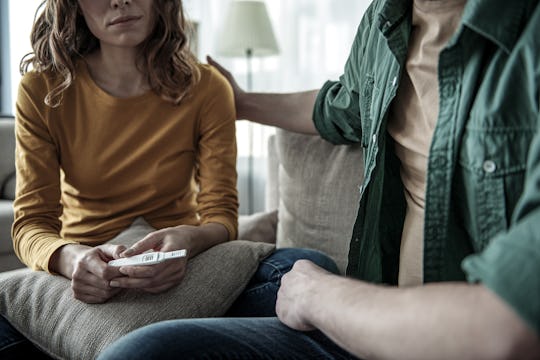 YakobchukOlena/Fotolia
You Won't Believe What These Dudes Said When They Found Out They Were Having Girls
When I was pregnant I didn't worry about my baby's sex. I didn't care about traditional gender roles, I certainly didn't worry about how I would parent with them in mind, and I assumed my then-husband felt the same way. But when he found out we were having a girl, and voiced his disappointment, I realized I was wrong. I'm not alone, either, so I asked other moms to share the straight-up horrific things their husbands said when they realized they were having a girl. The gender binary may be for the birds, but a lot of parents are continuing to buy into it.
It seems unreal to me that my now ex-husband — who had always claimed to be a feminist — said things like "she's not going to date until she's 35," and "I'm going to start cleaning my gun in the living room to scare off the guys." Surely he didn't think he should have a say about who our daughter dated, right? I mean, why would we, her parents, have a choice in the matter? Just because she was a girl? His other comments were more subtle, but in my opinion just as problematic. For example, he would lament that he wouldn't have someone to watch football or go target-shooting with. News flash: girls can do those things, too.
Other moms I know heard way worse from their partner, though, and trust me when I say that doesn't make me feel any better. Some men were so disappointed to not have a son that they pressured their partners to have more babies, or even threatened them with divorce. I don't know about you, but to me the idea that sons are more valuable than daughters is antiquated and anti-feminist, not to mention inhumane. It's hard to believe that at a time when women can do just about anything, some dads are still concerned about having a male heir to carry on their bloodline or family name. WTF?
Now, don't misunderstand, I get that gender disappointment is a real thing. But we have to stop treating girls like property and perpetuating the idea that they are less desirable than boys by saying things like the following: