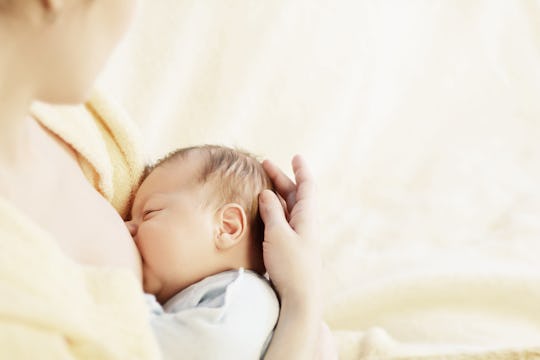 Dmytro Mykhailov/Fotolia
15 Things Every Grown-Ass Man Says About His Partner's Breastfeeding Boobs
So you and your partner have had a baby (mazel tov!) and your partner has decided to breastfeed. And you may be thinking to yourself, "I'd like to be involved in this. I'm a grown-ass man." So what exactly are things a grown-ass man says about his partner's breastfeeding boobs?
First of all: good on you for proactively thinking about ways you can assist, support, and celebrate your nursing partner. Second of all: I'm happy to help. New parenthood is an odd time for everyone involved in the endeavor, and breastfeeding is basically a whole new weird experience in and of itself. All of a sudden, your family life seems to revolve entirely around your partner's boobs. Does the baby need them? Are they making your partner uncomfortable? Are they leaking? Do you need to pull over on a road trip to do something about any of these issues? You probably haven't been this preoccupied with boobs since puberty. (Like... close but not quite... and when you imagined boobs being the center of your world it didn't quite play out like this.)
When it comes to things you can say about your partners breasts now that she's using them to feed that tiny human you're caring for together, the occasional, well-placed compliment can be nice. But I recommend more all-encompassing compliments. Something like, "I love everything about you," or, "Your body is so beautiful." That covers the boobs, too!
"OK, make her feel good about herself," you might say. "But what if... you know... what if I have concerns? Concerns or opinions or complaints? Like... what if she's breastfeeding, but I don't think she should breastfeed anymore? What about if her boobs don't look like they looked before she had a baby? What if she's nursing in public and I want her to cover up? How do I talk about her boobs then?"
These are some excellent questions and, I assure you, other new dads have thought of them before you. So let me tell you what a grown-ass man says about his partner's breastfeeding boobs: