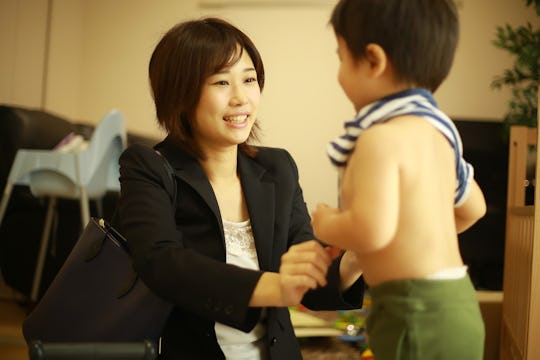 yamasan0708/Fotolia
17 Moms Reveal The Inspiring Ways Their Jobs Make Them Better Parents
Initially, I wanted to give a microphone to working moms with this article; to create a tangible example that gave words to the idea that, despite what some small-minded people might say, being a so-called "working mom" is, in fact, a positive thing for innumerable families. So I asked more than a few groups of moms, "Why does working make you a better parent?" One of the first people to answer was my brilliant friend Rachel, who summed up something I'd thought a million times with the following question:
"Has a father ever once been asked to justify why working outside the home is the best decision for his family or if doing so makes him a better parent? No. People, and society in general, who keep suggesting in one way or another that all of my decisions need to be about my kids above, and potentially to the detriment, of all else can suck it."
No lies detected, Rachel.
Of course, being the fine, upstanding, feminist killjoy I am, I'd intended from the get-go to discuss the fact that while we hear "working mom" all the time (we're our own marketing demographic!) you never hear "working dad." Men, it seems, are allowed to make decisions about their lives without having to hyphenate their existence. And yet the way Rachel put it got me thinking: does this very question contribute to a narrative that suggests women have to justify their careers through the lens of motherhood? That we're mothers first and, frankly, people second?
But then I thought about it from the other side — while everything my friend said is true, I think it's also true that fathers, generally speaking, have not been asked to engage in their parenthood as fully or richly as mothers. So asking them to balance work (which is a system that has been built around them) and parenting (the very little we've asked of them), frankly, isn't all that challenging: the parenting bar has just been set that low.
Moms who have entered the workforce, on the other hand, are unfairly told that they must conduct their professional lives as though they have no family responsibilities (the way we've encouraged men to behave since... forever) and their family lives as though they have no professional responsibilities. They are afforded no more hours in a day, no more time off to attend to their families, and are, on top of it all, generally paid less than their male counterparts.
A solution, as I see it, is not to stop thinking about how one's profession informs one's parenthood and vice versa, but to insist that fathers do the same (and, dare I dream, to restructure corporate America in a way that would accommodate such a thing). Because, the truth of the matter is, the different spheres of our lives all influence one another. Here's how some women who have been there see it: