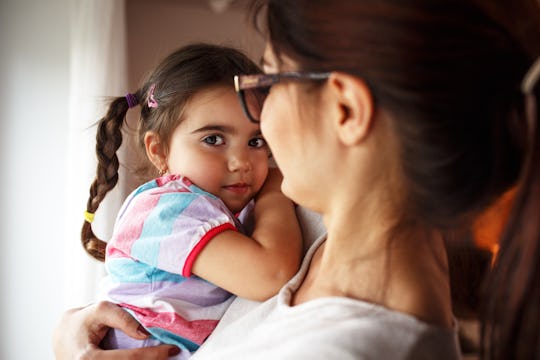 SolisImages/Fotolia
17 Moms Share How They Discuss Consent With Their Children
How do you discuss consent with children, and at what age do you start? Many parents find consent an uncomfortable topic and metaphorically gasp at the idea of discussing anything remotely related to sex with their young children. But what most parents don't realize is that consent isn't just about sex. Instead, it's about giving and receiving permission for contact with another person. So when moms share how they discuss consent with their children they aren't just talking about sexual advances, they are referring to an array of physical contact.
According to Joanna Schroeder, editor and co-author of Healthy Sex Talk: Teaching Kids Consent, Ages 1-21, it's never too early to talk about consent with children. Teaching consent to children is crucial, and kids should know from the very beginning that no one is allowed to violate their personhood and push their boundaries. I started teaching my children consent from the moment I realized they were able to understand personal space. It's important to teach kids to empower their body autonomy.
I start my conversation with my children when they are toddlers by telling them they are not obligated to hug or kiss anyone, including family members. I make sure to make it a point to tell my family members, in front of my children, that my kids will hug them when and if they feel comfortable doing so. I model consent by asking them for hugs and kisses and showing them it's completely acceptable to say no. I remind them often that no one reserves the right to their affection and that no one owes their affection to them. I tell my children to respect their own bodies and the bodies of others. I instruct them to ask permission before roughhousing with their friends. I also teach my children the proper names for their body parts and don't use euphemisms. I teach them consent because it is important to start young rather than regret your inactions later.
I'm not alone, either. Parents are finding the time and vernacular to speak with their children about consent, and at an early age. So with that in mind, here's how the following moms discuss the subject with their kids: