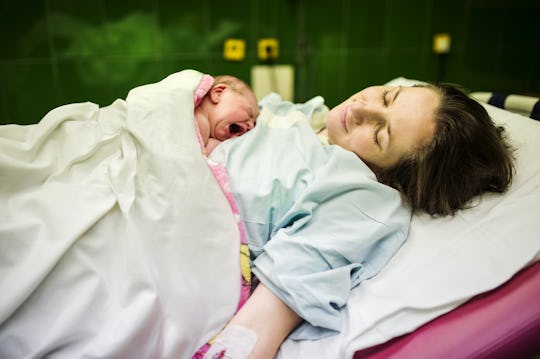 Halfpoint/Fotolia
17 Women Describe What The Afterbirth *Actually* Feels Like
I spent a lot of time thinking and worrying about childbirth when I was first pregnant. What would it feel like? How would I deal? I didn't, however, give any thought to what would come next, otherwise known as the afterbirth. It turns out the organ that provided my baby with nourishment and protection during my pregnancy was warm, wet, and really freaking gross. Since then, I have heard a lot of stories about what other moms think the afterbirth actually feels like, and can tell you that a birth class doesn't do it justice.
When asked what the afterbirth feels like, people described their placentas as warm, slimy, bloody, veiny, and generally disgusting. Some thought it was pretty cool, too, and even went so far as to ask if they could see and touch it. Some moms found the experience to be a pretty amazing one, while others don't really remember the final stage of birth because, well, they were pretty focused on their new baby. I mean, can you blame them? The answer is no.
The most surprising thing for some people was that the placenta would need a little help actually exiting the body. I know I had no idea that my midwife would have to press down, and hard, on my uterus to help the afterbirth along, and that I would need a shot of pitocin to slow the bleeding down afterwards. I certainly didn't expect my placenta to slide out of me with a contraction and plop wetly on the table. Yikes. Then my midwife asked me if I wanted to take it home to bury it under a tree or eat it (something I had no idea was a thing people did) and I had to choke back a little bit of vomit. Hard pass, thank you very much.
If you are pregnant and want to know what to expect when it's time to deliver the afterbirth, or you just like being completely grossed out, read on for some first-hand experiences with the magical (and kind of gross) placenta.