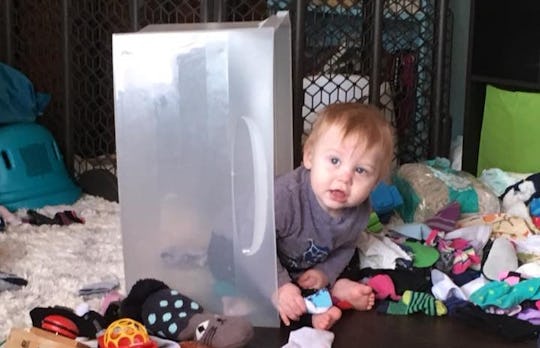 Courtesy of Steph Montgomery
23 Disgusting Things I've Actually Found While Cleaning My Kid's Room
It's no secret that kids are gross, but I had no idea just how gross they could be until my kids were old enough to take things into and out of their rooms. While having a new baby seemed disgusting at the time — with messes to clean-up, poop-filled diapers, and gallons of spit-up — that was nothing compared to what was to come. Beyond the baby years, I've discovered just how disgusting parenting can be, as evidenced by the gross things I've found while cleaning my kid's room. If you are prone to vomiting, you might want to stop reading.
My husband and I have five kids, ranging in age from toddler to tween. So it's safe to say that, over the years, we have pretty much seen it all. From the time they transitioned from their cribs to big-kid beds, we started finding things like a wide assortment of no-longer-edible food, wrappers, and used diapers (and their contents) in their rooms. I've learned that parenthood is not for the faint of heart... or the weak of stomach.
I know you might be wondering why I don't just give up and make my kids clean their own damn rooms. Believe me when I say I've tried, but I have to let you in on a little secret: parents can't really go on strike from cleaning. At best, we can simply delay the inevitable. Why? Because our kids' tolerance for messes is arguably way higher than ours. In my experience, refusing to help your kids clean their rooms for a while means that when you finally break down and decide to tackle their discarded toys, dirty clothes, and granola bar wrappers, you'll have to wear a hazmat suit.