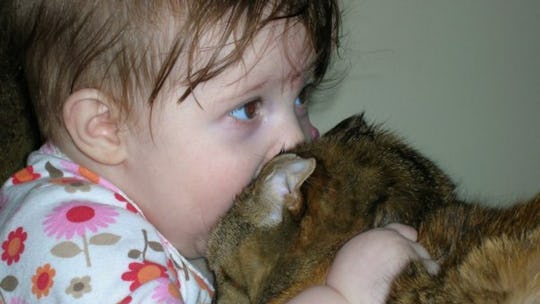 Courtesy of Steph Montgomery
27 Moms Share The Grossest Things They've Pulled Out Of Their Kid's Mouth
For most of us, parenting is a constantly moving merry-go-round of never-ending and often intense moments. Some of those moments are great, like snuggles and good night kisses, and some of those moments are difficult, like listening to your baby cry or making a trip to the doctor. Some moments are incredible, too, like sharing a new experience with your child for the very first time. And then there are the seriously disgusting moments, like when you have to pull the grossest things out of your kid's mouth.
Parenting is definitely not for the weak of heart or stomach, especially once your baby or toddler is mobile and can reach things you once thought were safe from their grubby paws and curious mouths. When my older kids were babies and toddlers, I actually had it pretty easy in this department. Sure, I rescued a few pieces of cat food, rock, sand, and wood chips from their tiny mouths, and I thought that was pretty gross, but I eventually learned that things could be way, way worse.
For example, my youngest took a bite out of my old, crusty pumice stone whilst taking a bath. And then there was the time he squeezed diaper ointment into his mouth during a diaper change. He's eaten hundreds of ladybugs and beetles, as if they were a rare delicacy, and he even popped a poop into his mouth that he fished out of the bath before I could stop him. By far the worst thing he's put in his mouth was my menstrual cup that he somehow was able to grab from the ledge in my shower. Yuck.
I'm not alone, though, for better or worse. So, you know, thank goodness for the nice folks at poison control, who always seem to put our collective minds at east. Kids are gross, dear reader, and as the following will prove they're hellbent on putting just about anything in their mouths: