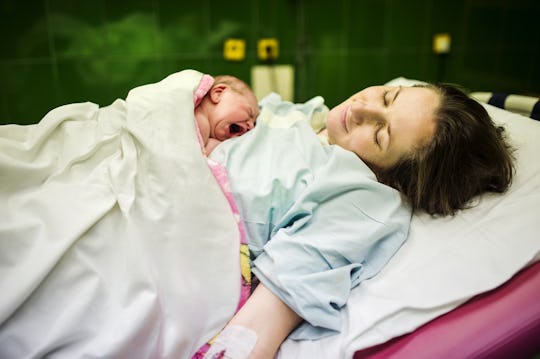 Halfpoint/Fotolia
5 People Who Can Make Or Break Your First Night At The Hospital
Those first few hours after delivering your new bundle of joy are important for a variety of reasons. And, for better or worse, the people at your bedside can be the difference between a good first night, and a night you'll never speak of. From comfort keepers to emotional support, everyone plays a role. The doctor is a given, for obvious reasons, but there are other people who can make or break your first night at the hospital... and they may not get the credit they deserve.
I still remember the blur of people in and out of my hospital room after the birth of my first child. The very best people, at least in my experience, were the ones that both allowed me the freedom (and space!) to enjoy my baby, and those who made sure I was tended to and supported (long after labor and delivery ended). While the focus usually shifts to the newborn as soon as they enter the world, the people who can start off your postpartum experience the right way are those who don't forget you still, you know, exist.
I didn't have as many supporters in my corner when my second child was born, unfortunately. Maybe everyone assumed I'd already been through it once and, as a result, didn't need the same care and attention. Or maybe they innocently assumed I wanted time with my baby and partner, alone. Whatever the reason, I appreciate those who made that first night in the hospital with my babies everything I needed, and more.