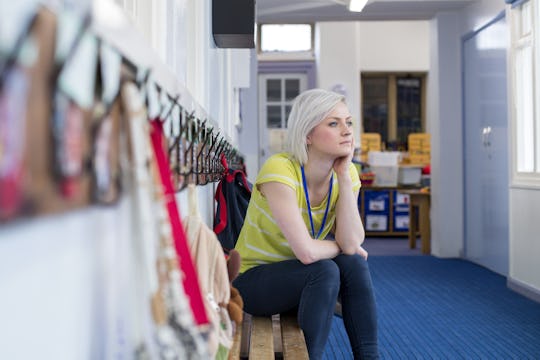 dglimages/Fotolia
6 Questions Preschool Teachers Ask That Make Moms Feel *So* Guilty
I do my best to have a good relationship with my kids' teachers. As a teacher and a parent, I understand how difficult both roles can be. Neither one is highly respected, or as respected as much as it should be. So, when preschool teachers ask questions that make moms feel guilty, I understand that, almost always, it's not intentional. I understand that a teacher may not have meant to offend the mother, and that the mother may be upset over something that seems insignificant to almost everyone else. However, as an educator, I am very mindful about how mothers are treated in this society and try to approach them with kindness, understanding, and without judgement.
I know that when my son's preschool teachers asks me questions, she isn't trying to be offensive on purpose. I know she doesn't understand how I parent and why I chose to parent the way I do. Many people don't understand, nor want to understand, why I am so liberal and progressive with my parenting. And hey, I'm fine with all of that. I can handle a little bit of low-key criticism without having my feelings hurt. However, not everyone is like me and not everyone can or should be able to handle those potentially painful moments when someone makes them feel guilty over things they have no control over.
Mothers in our society are already walking around with giant chips of guilt permanently attached to their shoulders. They carry the guilt, and the heavy burden that comes with it, day in and day out like a badge of dishonor. They do this partly because they have been told that everything they do is obviously wrong, and partly because of the unrealistic expectations of perfection they have created due to what they see it the media and hear from other "well-meaning" people. So managing your expectations and being open, honest, and forward about how others make you feel, is a great way to navigate that guilt and unload some of that burden. With that in mind, here are some questions preschool teachers ask that can make a mom feel culpable, even when you're not.