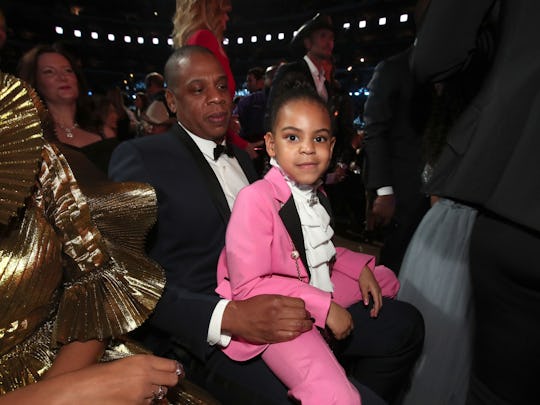 Christopher Polk/Getty Images Entertainment/Getty Images
Blue Ivy Will Be An Awesome Big Sister, Obviously
No one can truly understand what it's like to be Blue Ivy Carter except Blue Ivy Carter — and she's only 5 years old. What would it be like to be the only child of Beyoncé, who's widely regarded as the greatest living entertainer, and rap mogul Jay Z? The opulence, the jet-setting, the awards shows, the paparazzi. So, when little Blue welcomes her new twin siblings sometime soon, she'll have a lot to teach and show them. Luckily for them, there are plenty of hints Blue Ivy will be an awesome big sister from day one.
It seems like just yesterday that Bey unforgettably showed the world that she was expecting Blue at the 2011 MTV Video Music Awards, following a performance of "Love on Top." And the Beyhive collectively freaked out when Beyoncé announced that she was pregnant again with twins earlier this month, eager in our euphoria to guess what the babies' names will be and whether they're boys, girls, or one of each. No matter who these babies are, Blue is "so excited to be a big sister" to them, as an unnamed source told Us Weekly shortly after Beyoncé shared news of their imminent arrival in what would become the most-liked Instagram post of all time.
And, clearly, they will be born into truly extraordinary circumstances, meaning that they'll need their older sister to guide them. Thankfully, it seems like Blue is totally up to the challenge, based on her remarkable life experiences so far.
She Can Show Them How To Star In Music Videos
Blue may be just a kid, but she's an old pro when it comes to starring in her mom's music videos. She made her debut in Bey's 2013 "Blue," appropriately, and returned for an encore performance in "Formation" a little more than two years later. Her new little siblings will likely get the star treatment one day soon as well, and when they do, Blue will be there to show them all the ropes.
She'll Give Them All The Lessons In Style
From her Prince-inspired Gucci suit at the 2017 Grammys to her matching outfits with her mom at the Eiffel Tower, Blue has the fashion game on lock — and she's obviously learned from the best. She has enough experience looking glamorous to teach a college-level course on the subject, so she'll be ready to bequeath some knowledge on her little siblings, too.
She'll Share Her Cute Accessories
Speaking of the Grammys, Blue rocked some of the cutest accessories, including a sparkly pink purse that she was happy to show to a friend in the front row. Obviously, this is just one of many accent pieces the little girl is more than ready to share.
She'll Show Them The Ways Of The Illuminati
You are, of course, familiar with the popular conspiracy theory that Jay Z and Beyoncé are part of the Illuminati, a society so secret that no one can prove it actually exists, and which is bent on creating a new world order. And if you subscribe to this theory, they you probably also believe that Blue Ivy's name is an acronym, like so: Born Living Under Evil Illuminati's Very Youngest.
And if the crazy theorizing is true, Blue has a lot to teach her little twin siblings about being the "Illuminati's Very Youngest." (Kidding, of course.)
She's A Pro At Photoshoots
Blue made an appearance in her mom's "I Have Three Hearts" pregnancy photoshoot that went public shortly after the family announced they were expecting the twins, and she was a natural. Any children of Beyoncé will hold the public's interest no matter what, so knowing how to pose and sit through these shoots will be essential for the whole clan. Blue looks like she can lead by example on this one.
She Can Be In Two Places At Once
Blue made an appearance in during Bey's beautiful, ethereal Grammys performance in February — while she also watched from the front row. It was a hologram version of her that graced the stage, of course, but how many 5-year-olds do you know who've been holograms? And because she's going to have two little siblings, it's a pretty nifty trick for when she super busy with her world domination and older sister responsibilities.
She's The Best Cheering Section Around
Just look at her adorable reaction to her mom's Grammy performance. There's no doubt she'll support the two newest member of her family in all they do, as well.
With Blue at the helm, the Carter-Knowles trio will very soon be the flyest around.