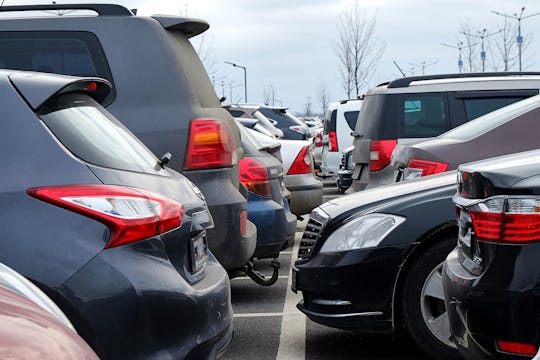 Seroma72/Fotolia
7 Parking Lot Hacks That'll Make Navigating Those Terrifying Hellscapes Easier
Who knew that becoming a parent would suddenly make even the most mundane tasks complicated? Take parking, for example. Before kids, you could park wherever the hell you wanted. You didn't have to worry about finding a quick, close parking spot because, well, it was just you. But add kids, and their nonexistent patience, to the mix and it gets way more complex. So, in my opinion, every mom should know a few easy parking lot hacks to help them navigate these terrifying hellscapes as safely, and quickly, as possible. Seriously, who wants to deal with unnecessary tantrums when you're just trying to run a few goddamn errands?
The following tips come from the direct result of being a mother to a 4-year-old son, as well as helpful advice from other moms. Some of these tips involve a little pre-planning, while others will help save you time in the moment (and especially if you're pressed for it). And others will involve, shall we say, more "creative" methods; ones your kids will probably learn to appreciate when they're older and, as a result, less likely to sleep through the entire outing.
At the end of the day, you don't need to be caught in a vehicle with an unruly, impatient child longer than you have to be. You don't want to be driving for so long your kid has an accident in the car, or to the point that everyone is extremely grouchy by the time you return home. So why not see if these pointers don't make your next visit to the mall, grocery store, or attraction just a little smoother, right? After all, what do you have to lose?