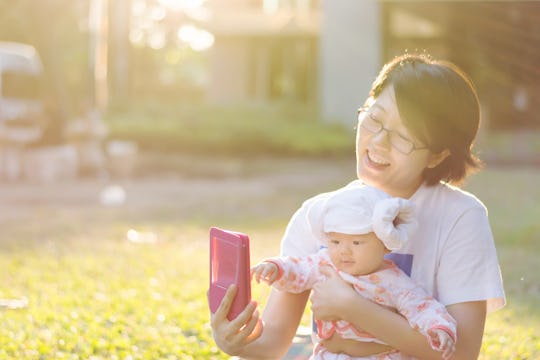 yupachingping/Fotolia
7 Photos You *Must* Take In The First 6 Months Of Motherhood
In my experience, becoming a mom is like becoming an amateur photographer. There's just something about the need to capture every single coo and sorta-smile that leaves you obsessed with all things photography. I know I couldn't stop taking selfies with either one of my children. In fact, I still can't. So make no mistake, there are more than a few mandatory photos you *must* take in the first six months of motherhood. No, seriously. This should be a requirement.
I will admit, however, that there's a major photo discrepancy between the first six months of my first child's life, and the first six months of life with my second child. It wasn't intentional, to be sure, but I definitely took way too many pictures of my oldest. There's just something about capturing all the "firsts" that's both exhilarating in the moment and comforting when you realize your baby is growing up way too fast. My daughter made me a mom, after all, and I wanted to document just what that transition meant. For both of us.
Of course, I made sure to capture all those milestone moments with my son, too, but he doesn't have quite as many photo albums to flip through. Having said that, here are the pictures you absolutely have to take in the first six months of your little one's life and before the moments are gone forever.