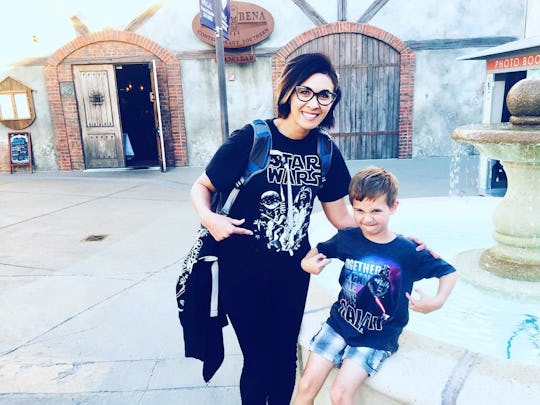 Courtesy of Candace Ganger
7 Reasons Why I Don't Want To *Ever* Be Labeled A "Strong" Mom
When I think about what it means to be a "strong" mom, I immediately think about my grandmother. She was resilient, light-hearted, compassionate, and kind; a true example any parent would be lucky to have. She passed away in Feb. 2015 and, make no mistake, I wasn't ready to lose her. In fact, every time I think about her it feels like I'm losing her all over again. So, to be honest, there are more than a few reasons why I don't want to be labeled a "strong" mom, and feeling like I can't compare to the infallible example I had growing up is definitely on the list.
I've lived almost 36 years on this planet, but sometime it feels as though I've lived the equivalent of a thousand lifetimes. I grew up emotionally and physically neglected, in poverty, and without knowing my biological father, so to say my childhood was toxic and traumatic would be a gross understatement. I had no sense of true identity, and my broken family unit only make me feel like a stranger in my own skin. School was hard. I battled eating and mental health disorders. I married my high school sweetheart as soon as we graduated so I could escape my home life, only to divorce him after four exhausting years of marriage. After I became a mother and married my now-husband, I battled severe postpartum depression (PPD), suffered through two miscarriages, and had a complicated pregnancy and traumatic delivery during the birth of my son.
And through it all, I searched for my birth father. That search seemed endless, and hopeless, and in the end I found him... only to discover that he'd died of a cancer. I don't know if his cancer is heredity. In fact, I don't know the answers to a number of questions he is now unable to answer for me. So every single day, when I open my eyes, I battle depression, anxiety, obsessive compulsive disorder (OCD), and a swarm of insecurities that threaten to derail my schedule, my ability to parent, and my self-care regimen that allows me to be the mother my children need me to be.
All this is to say that when someone comments on how "strong" I am, I often feel like they've made a mistake or must be talking about someone else. Yes, I have endured countless traumas and overwhelming difficulties and I have emerged seemingly unscathed. Yes, I face each and every day with a deep sense of determination, pride, and a sorta "indestructible" attitude. But I don't think any of the aforementioned experiences I've overcome or endured are particularly unique or remarkable. We all have our backstories and our traumas and our difficult moments. I haven't saved the world or cured the cancer that took my father at such a young age. I've not miraculously managed to bring my grandmother back to life, and I don't always hide the pain I battle on a daily basis. I'm not strong, I am a flawed human being, but here's the thing: I would rather be flawed than superhuman. I would rather be me instead of some "picture perfect" version of me.
So for that reason, and the reasons to follow, I don't want people to consider me "strong" mother.