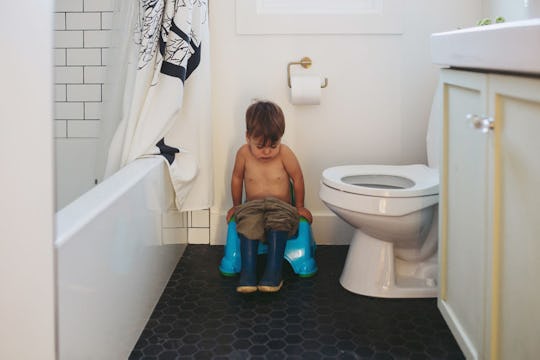 Rob and Julia Campbell/Stocksy
7 Signs Your Toddler Isn't Ready To Be Potty Trained, So Don't Even Bother
When you've got a toddler whose stinky diapers are basically a bio-hazard, potty training seems like the light at the end of the tunnel. If you're dreaming of the day when you no longer have to get your hands dirty (sometimes literally) dealing with your kiddo's poop-covered butt, you might be watching them like a hawk to see if they're ready to say goodbye to diapers. Unfortunately, however, figuring it out isn't always easy, and the age when kids are ready to potty train can vary wildly. There are some signs that your toddler isn't ready to be potty trained that you should know about, because ignoring them can make things ever harder.
Some moms and dads get to work on potty training as soon as their little one can walk, while others wait until pre-school makes it a bit of a necessity. The average age for potty training is about 27 months, according to Healthline, but some kids are more stubborn than others. As much as you may be completely over changing diapers, potty training won't always happen on your schedule. If you try to force it before your kid is ready, they might respond by holding it in — which ABC News explained can cause bladder problems or digestion issues.
These seven signs will tell you if you need to be a little more patient before starting potty training. As hard as it can be to wait, rest assured that you'll get there eventually.