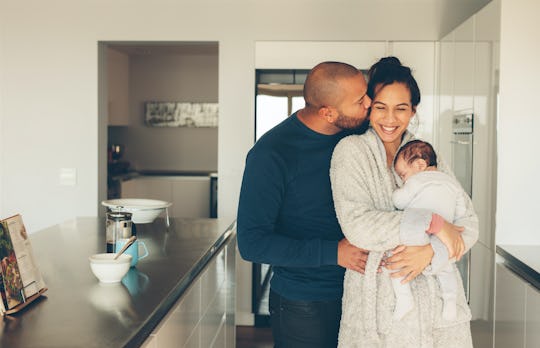 Jacob Lund/Fotolia
7 Things Every Couple Should Do In The First 3 Months Of Their Baby's Life
Those first three months after you've brought home your newborn bundle of screaming, pooping joy is not a time usually synonymous with romance. The early days of parenthood are some of the most challenging, and some couples nearly come undone from the experience. And while romance isn't exactly on the table, connection with your partner is. In fact, there are plenty of things every couple should do in the first three months of their baby's life to stay engaged with one another, to feel bonded, to support one another, and, frankly, to help each other not fall apart.
When my partner and I were first-time parents, we didn't do such a great job of staying connected. First of all, we were completely overwhelmed and shocked by everything parenting a colicky newborn entailed. Having only visited two friends with babies, and whose babies had been complete angels at the time of our visits, we had been sold the fantasy version of what having an infant was like. We were expecting the hushed household, the sound of a sleepy lamb machine in the background, and long naps with a baby on our shoulder. You know, that kind of thing.
The screaming-heathen-type-baby we came home with was a real shock to the system, and put a real strain on our individual sanities and our relationship. Nothing about the experience felt "blissful" and we had a hard time feeling "blessed." Both of us were utterly exhausted from sleeping a total of one cumulative hour a night, or so it seemed. We had so little left to give, and whatever was leftover we did not want to give to the other person. It was just not good.
So when we were preparing to welcome our second baby to the family, we expected the worst. Again. And while we had a pretty easy baby the second time around, we also had certain things in place (babysitter, night nurse to help me with my C-section post-op care of the baby, more involved family) that made the entire experience significantly easier. We also made a very, very, conscious effort to recognize each other through the fourth trimester fog. Here are some of the things that worked really well for us in those first few months, that are pretty low-effort to do but result in feelings of connection with one's partner: