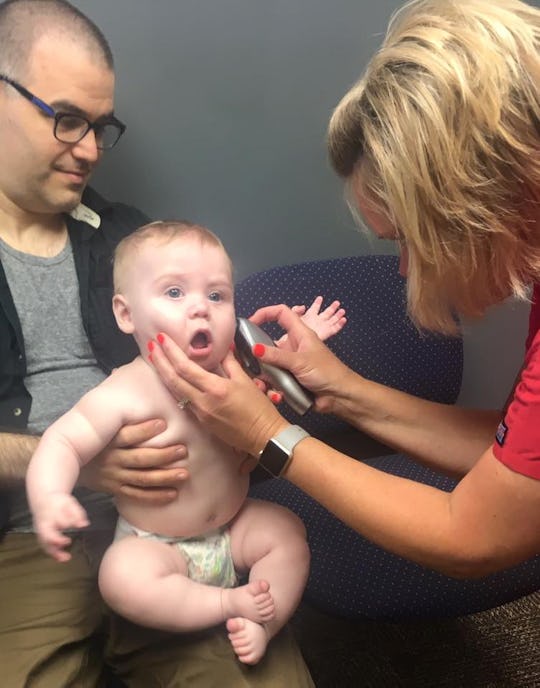 Courtesy of Steph Montgomery
8 Annoying Things Your Husband Will Do At Your Baby's First Pediatrician Visit
I hate it when people treat dads like dolts, incapable of doing basic parenting tasks like feeding babies or changing diapers. I think it reinforces harmful stereotypes. I don't think men should be treated special for being dads, either, so I'm not a fan of people praising dads for doing things moms do every day without acknowledgement. So if you, like me, have high (read: fair) expectations of dads, know that there are things your husband will do during your baby's first pediatrician visit that will totally annoy you.
My husband is a great dad who takes a hands-on role in co-parenting, no questions asked. But guys, even my husband is not immune to doing annoying things at the doctor's office. For him, things always start with a proverbial dad joke. For example, when the receptionist asked for the baby's name, he turned to me and made a joke about not remembering which kid it was. Then he legitimately forgot our baby's birthday, but to lighten the mood made yet another joke about the baby not being his. I try to have a good sense of humor about such things, but somehow — when I was a couple of days postpartum — none of these jokes seemed funny. At all.
Then, after the doctor reviewed our baby's sleeping and eating schedule, he literally asked her something she just covered. Like, was he even listening? I knew, logically, that he was probably almost as tired as I was, but pay attention, good sir. Then he told the doctor that we were co-sleeping. I quickly jumped in to correct him and clarify that we were "room-sharing" and not "bed-sharing," but I was mortified. Luckily, the baby pooped, which meant a break from the awkward tension in the air. Then we realized that he forgot the diaper bag in the car and, well, the awkward tension returned, with a side of stink. FML.
So if you are pregnant, or have a new baby, and your partner is as "funny" as mine, you might want to share some advice on what not to do at your baby's first (or any) doctor's appointment.