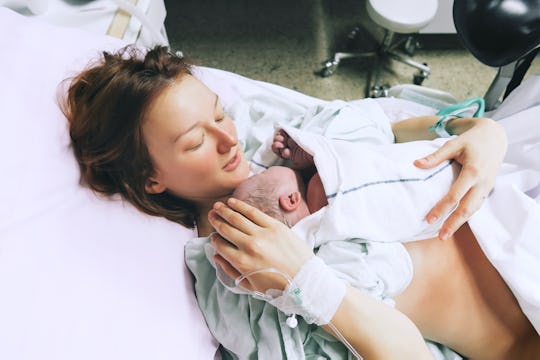 nataliaderiabina/Fotolia
10 Childbirth & Vagina Jokes That Should Die 1,000 Deaths 
Childbirth, and the state of your poor postpartum vagina, are no joke. Of course, that doesn't stop people from poking fun at the entire situation all the time. I find that, for the most part, these jokes are sexist, gross, and creepy, usually demonstrating a complete lack of knowledge when it comes to childbirth and women's bodies. After three deliveries, I have heard way too many childbirth and vagina jokes that will make you rage. It honestly makes me want to commit acts of violence, but I don't because I'm a decent, kind, respectable human being. Instead, I stare blankly at some random human who, for one reason or another, thinks they're funny, as if to ask, "What did you just say, and why do you think that's in any way hilarious?"
So why do people make these kinds of jokes? I think part of the problem is that our society is painfully uncomfortable with reproductive anatomy that we, for the most part, associate with women. When we get uncomfortable with things, we have a tendency to joke about them. Many people — male and female — can't even say the word "vagina," let alone bother to learn how one works. Plus, as women we are used to being the butt of people's crappy jokes, and are constantly told to be polite, so we laugh along, even if these jokes suck and make us super uncomfortable.
We also live in a culture where people with vaginas are expected to use those vaginas to please people with penises. If you listen to the way we, as a society, joke about postpartum vaginas, childbirth complicates sex in both the short and long term. People assume spouses are irritated by the six week postpartum sex wait, and think childbirth irreparably damages vaginas by turning them "loose hot dog tunnels." People, that's not how this works. That's not how any of this works. But individuals who've never had babies only have what they've heard or seen on television to go off of, so the stereotype of the angry, irrational, out-of-control woman in childbirth, with a broken vagina, just won't die.
Maybe I just don't have a sense of humor, or maybe I am just freaking tired of casual sexism taking over my world. Regardless, these jokes about birth and vaginas kind of make me want to burn it all down: