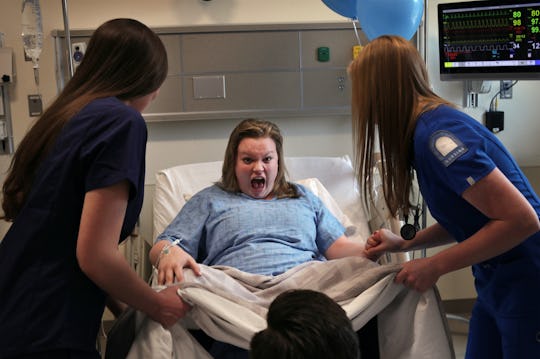 James/Fotolia
8 Moms Describe What It Really Feels Like To Get Your Baby Stuck During Childbirth
Childbirth can be fairly smooth, complication-free experience. But for some women it's downright terrifying, specially if your baby gets "stuck." Yes, that really is a thing. If you're planning for a vaginal birth know that your baby will more than likely slide down the birth canal without a hitch, but there's a chance that won't be the case. And when a baby gets stuck during active labor, well, panic usually follows. Trust me. Not only have I experienced a "stuck" baby, but I asked other moms to describe what it's like to get your baby stuck during childbirth. Believe me, you're going to want to hear some of these stories and be as prepared as possible before those contractions start and things start getting real.
When I was pregnant with my son I was not in the best state of mind. I had lost my daughter just a year prior, and the pregnancy itself was stressful. Toward the end, I wound up opting for a home birth, mistakenly under the assumption that it would improve my odds of having an easy and complication-free, intervention-free birth. I'd read a lot (too much, perhaps) and been influenced by folks who swore up and down that home births were the safest, and that hospital interventions were the leading cause of birth traumas.
So it was an unpleasant surprise when, about 10 hours into my labor, my son got stuck in the birth canal. Try as I might, I was making little-to-no progress in getting him to move. I could feel my baby's head, but I wasn't dilating enough for that head to move. So to say I was panicked is an understatement. It was frightening, but also frustrating to feel like I could do this, I should be able to do this, but my body was not cooperating. Eventually I was rushed to the hospital across the street, and the OB-GYN on-call basically reached inside my body and pulled my son out while I pushed with all my might.
That ambulance ride was one of the scariest, most surreal experiences of my life. I was in so much pain I could barely communicate, even though in my mind I was shouting at everyone I saw. In other words, having a baby "stuck" inside my body is not something I'd ever want to experience again. Here's what other moms had to say about their personal labor and delivery experiences: