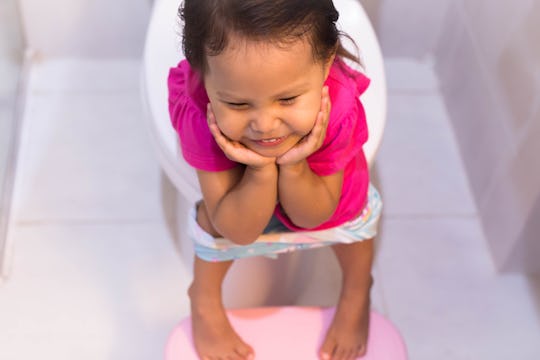 Shutterstock
These 8 Potty Training Techniques Will Work On Even The Most Stubborn Toddlers
There was a time when I was absolutely, 100 percent convinced that I would be that legendary mother whose child actually went to college in diapers. Both of my children were late to train, but one of them was particularly resistant to potty training, to the point where I was close to tears with every pack of pull-ups I bought. Sound familiar? Then rest assured: You're not alone, you're not a bad mom, and there are (believe it or not) ways to get even the most stubborn toddler to use the toilet.
Just realizing that there's a wide range of "normal" when it comes to the timing of toilet training can be a relief. According to the Mayo Clinic, by ages 18 to 24 months, many children show initial signs of toilet readiness, like curiosity about the bathroom or recognizing when their diaper is dirty. However, it's not at all unusual for kids to start later. "Some kids just don't want to use the potty," parenting expert Tanya Altmann, M.D., tells Romper. Dr. Altmann, a spokesperson for the American Academy of Pediatrics (AAP), adds that trying to pressure your older child to train — say, because your chosen preschool has an underwear-only policy, there's a baby on the way, or you're just done with the whole diaper thing — will only make your toddler resist even more.
Hoping to end the training struggle? Here are some tips from Dr. Altmann and other experts that can help your resistant child join the potty party.