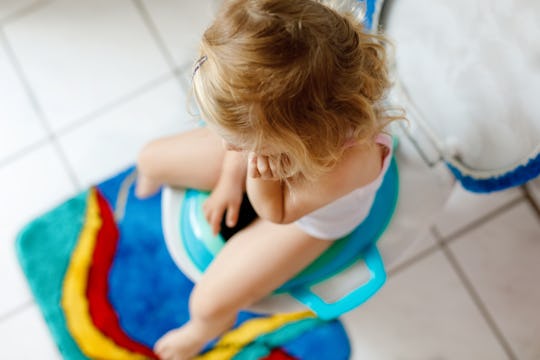 Shutterstock
7 Signs Your Toddler Isn't Ready To Be Potty Trained Yet
Don't worry — they'll get there.
When you've got a toddler whose stinky diapers are basically a biohazard, potty training seems like the light at the end of the tunnel. If you're dreaming of the day when you no longer have to get your hands dirty (sometimes literally) dealing with your kiddo's poop-covered butt, you might be watching them like a hawk to see if they're ready to say goodbye to diapers. Unfortunately, however, figuring it out isn't always easy, and the age when kids are ready to potty train can vary wildly. But before you get your hopes up that your little one is nearing the porcelain finish line, there are some signs your child is not ready for potty training that you should know about, because ignoring them can make things even harder.
Some moms and dads get to work on potty training as soon as their little one can walk, while others wait until pre-school makes it a necessity. In truth, there is no single timeline that will fit every child. "The average age is 27 months, with a few outliers training as early as 18 months, and those of course who wait until after age 3, even getting close to 4 years," Mary Vaughn, a certified potty training consultant and founder of Mother Together, explains to Romper.
As much as you may be completely over changing diapers, potty training won't always happen on your schedule. If you try to force it before your kid is ready, more problems will arise. "The greatest consequence of potty training too soon is that it will cause a lot of undue stress for both parent and child," Vaughn says. Among the causes of stress might even be dysfunctional voiding, or when a child withholds poop or pee, which could in turn lead to a urinary tract infection.
Below, these seven signs will let you know if you need to be a little more patient before starting potty training. And as hard as it can be to wait, rest assured that you'll get there eventually.
Overall, potty training requires patience and is not always a straightforward process. Regression is normal, and not every toddler will be the same. And parent motivation to potty train plays a role in the timeline, too. You can show some urgency to tackling the project of potty training, or wait until the process will be as easy as possible — it's up to you. So long as you don't push your kid when they aren't quite ready. "A child who really isn't ready to potty train, but who wants to please their eager parent, will feel immense pressure to 'perform,'" says Vaughn. "They may present this stress through tears, tantrums, or anything in between, but they will feel the stress."
Just know that it will happen eventually, and staying supportive throughout your child's development is key. "As the parent, the longer potty training takes, the more challenging it can be to stay cool, calm, and patient with accidents and slow progress," Vaughn says. "This, too, is far from ideal. A child who really isn't ready will just end up having lots of accidents, and nobody wants to deal with that." As with any medical-related topic, if you have questions or concerns, you can always consult your little one's pediatrician for help.
Study referenced:
Bauer A. (2021). Dysfunctional voiding: update on evaluation and treatment. Current opinion in pediatrics, 33(2), 235–242. https://doi.org/10.1097/MOP.0000000000000980
Experts:
Mary Vaughn, certified potty training consultant and founder of Mother Together
Dr. Whitney Casares, pediatrician
This article was originally published on