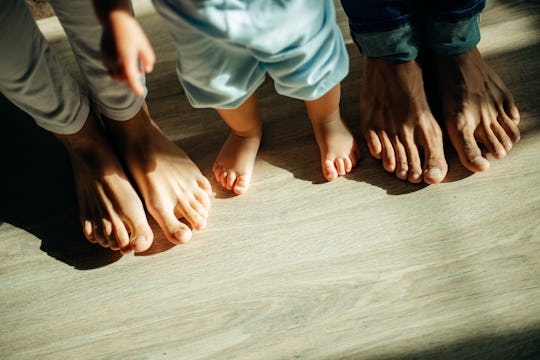 alfa27/Fotolia
8 Signs Your Toddler Is *Definitely* Trying To Steal Your Partner Away From You
It took me a while to find the person I was going to do life with. I'm talking a lot of heartache and kissing a lot of frogs. Given what I went through, I'm not about people creeping on my partner, including my 2-year-old daughter. No, it's not just you and you're not being irrational. Toddlers may be tiny, but they are sneaky and possessive as all hell. If they exhibit any of the following signs, then your toddler is definitely trying to steal your partner away from you.
My husband and daughter have a very special relationship. They're each other's favorite playmate, and I constantly catch them making up some new game (you know, the floor is lava or boop Daddy's nose) and laughing hysterically. Given that my biological father was estranged from me most of my life, this relationship is something I'm grateful for. My partner and kid are two peas in a pod, right down to their "Joe faces." That doesn't mean I don't get jealous, though. I mean, to be fair, the child did have to do without her dad for a whole year when he was deployed, so would I really begrudge her somewhat possessive behavior of him? Turns out that yes, yes I would.
So if you wake up one morning and find yourself alone, it's because your toddler absconded with your partner in the night and they're living happily ever after. Don't say I didn't warn you.