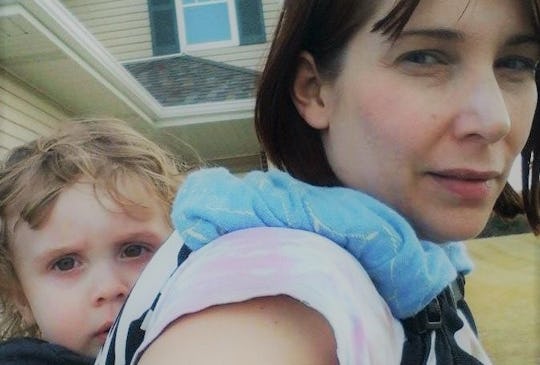 Courtesy of Steph Montgomery
8 Single Moms Describe How They Were Shamed By Total Strangers & OMG
Being a single mom was one of the hardest things I've ever done, but it was also one of the most badass. Not only do single moms have to do everything other moms do, but they do it alone, with few breaks and no one to help carry the parenting load. Unfortunately, while people should be giving single moms perpetual high fives, they judge the hell out of them. In fact, every single mom I know has been shamed, even by total strangers who literally have no idea what life is like in their shoes.
As a single mom I felt like people shamed me simply for existing, especially when they had the audacity to say things like it was clearly my fault "I couldn't keep a man." I had to work to support my family and was expected to serve as both parents to my kids, all with a smile on my face. Meanwhile, I heard whispers from moms at my kids' daycare when I struggled to carry two kids in the rain or was late for pick-up. Not a single one ever offered to help. When looking for an apartment a potential landlord said, to my face, that he didn't rent to single moms because we never paid on time. And, sadly, so many other single moms I know have heard comments just like these... or worse.
As a community, there's absolutely no benefit to shaming single moms. Even if you've read about (and believe) how growing up with a single mom makes her kids' life harder, do you really think shaming a stranger publicly will change their situation from the better? Hint: it wont. I stayed with my ex for way too long, partially because I was afraid people would judge the hell out of me for not working things out "for the kids." In reality, I was actually a way better parent after I left.
Shaming single moms is not helpful, true or kind, but it happens every single day. It needs to stop, or more parents are going to be forced to hear things like the following: