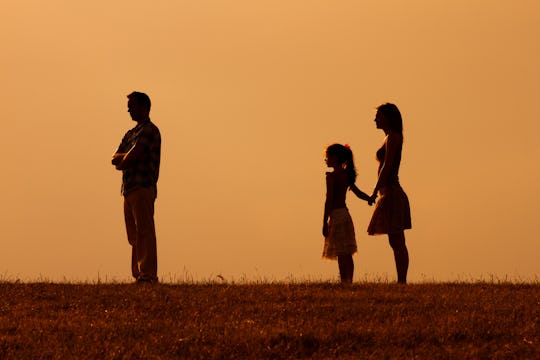 inesbazdar/Fotolia
9 Moms Reveal The Moment They Realized They'd Be Better Parents If They Left Their Partner
Like most people who've been through a divorce, my reasons for staying with and then leaving my husband were complex. I clearly remember the moment I realized I would be a better mom on my own. I walked into my 4-year-old daughter's room at bedtime, only to find her father shouting at her to go to sleep. I could handle him being lazy, dishonest, unfaithful, and cruel to me, but not her. She deserved better. In talking with other moms, I've heard so many stories about mothers realizing they would be better parents if they left their partner, and after each and every one I am in awe of women and their relentless strength.
Content Note: these stories are powerful and important, but may be upsetting or triggering to survivors of abuse or suicide. Please take care of yourself.
Like mine, some of the stories mothers felt comfortable sharing with me were about survival. Recognizing that your partner is abusive and that you (and your kids) deserve better is a harsh realization. It's scary — not just for obvious reasons — but also because, after a while and at least in my experience, you start to truly believe it's not that bad. You, unknowingly, normalize the abuse. Sometimes it takes a wake-up call to be honest with yourself about the necessity of leaving, and facing that reality sucks. I laugh a little when I think about how scared I was to leave my husband, mostly because I thought I would fail as a single mom. But it turns out, being a single mom was so much easier than co-parenting with my (now)ex-husband.
Like the moms I've talked with, I realized that my partner was not a good parent and that his actions were negatively impacting our kids. I knew my kids deserved better and, since I had a place to go, I left my husband so I could give them that life. For some of the other mothers I spoke to, it took realizing that caring for their partner was like having another child to care for and, well, parenting is tough enough.
I don't judge other people for staying in abusive or just plain bad relationships, because I know how hard it is to leave (physically, financially, and emotionally). But for me, and so many other moms, life significantly improves after you leave a toxic environment. And for the women below, leaving their partners ultimately helped them become better parents.